Williams happy to join the Caravan family
Hang on for a minute...we're trying to find some more stories you might like.
One of Mount Carmel's new faculty members, Mr. Jamel Williams, is happy to have found a home at Mount Carmel.
A graduate of St. Xavier University with a degree in Secondary Mathematics, he earned a Bachelors of Science degree as well. Prior to joining the Mount Carmel faculty, he did his student teaching at Morgan Park High School. Williams, who took the position as a mathematics and physics teacher at Mount Carmel, is teaching three classes: Excel Geometry, Foundations Physics and Algebra III.
Williams also would like to start an Anime Club and bring back the Browntown Rock Band here at Mount Carmel.
Williams really likes it here, saying that Mount Carmel has a caring environment, and that he "hopes to stay here for a while."

About the Writer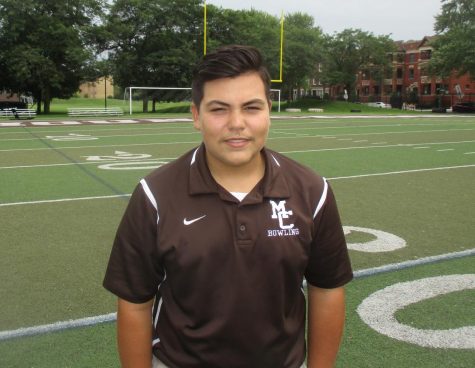 Matthew Martinez, Staff Writer
Matthew Martinez, born in Chicago, goes to Mount Carmel High School on the South Side of Chicago. He went to grade school at St. John the Baptist in Whiting, Indiana. For the first two years of high school, he played baseball, but now plays tennis. He is also on the school's bowling and golf teams. During his summer of 2018, he went to Mexico for the first time. Mexico was a great experience for him and his family. His family consists of his mom, dad, and his brother Michael, a 2017 graduate of Mount Carmel. His brother attends Marquette University and is majoring in business communications. Martinez is very interested in going to Marquette next year and continuing his Catholic education even through college. A tough school, such as Marquette, is a challenge to get in for Martinez. He needs to do well this year.