Students set aside fears to share the "gift of life"
Hang on for a minute...we're trying to find some more stories you might like.
Junior Oskar Matushek stated he was "good, but scared." Michael Risley, another junior, admitted being "a little nervous."
Since 2004, Mount Carmel has provided several opportunities each year for students and faculty to donate blood and share "the gift of life."
Mrs. Julie Chappetto, a member of Mount Carmel's art department, is the individual who has organized the blood drive throughout that period.  She stated that the blood donations "are not just for accidents." They can be used for surgeries, to treat cancer patients, or to help premature babies survive the first few weeks of life.
Roughly 50 students signed up for the event on November 29, including faculty like Assistant Dean Lorenzo Nunez, who had a personal reason for participating.
Nunez's father went through many surgeries and he needed a lot of blood. In appreciation for those whose generosity helped his father, Nunez wanted to give back.  Besides, he added, "I have a lot of blood, so why not give it away?"
While many of the students understandable felt nervous, they all agreed it was worth it.
After the donation, Matushek felt "alright," and felt good about "doing the right thing by donating blood to help people." He also had a personal reason to give. "I got a blood transfusion when I was a baby, so I wanted to donate."
Risley, who admitted afterwards that he had "started to sweat and got nauseous," ended up feeling glad he had done it.
He summed up the sentiments of  just about everyone who participated, "I am happy that I am able to help people in need."

About the Contributors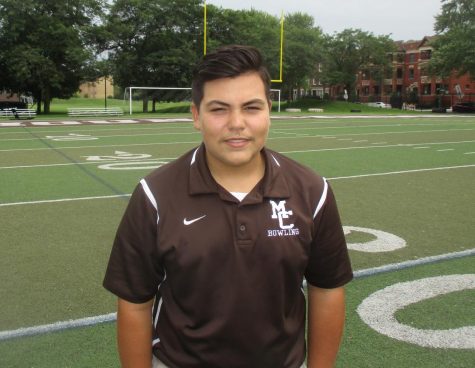 Matthew Martinez, Staff Writer
Matthew Martinez, born in Chicago, goes to Mount Carmel High School on the South Side of Chicago. He went to grade school at St. John the Baptist in Whiting,...