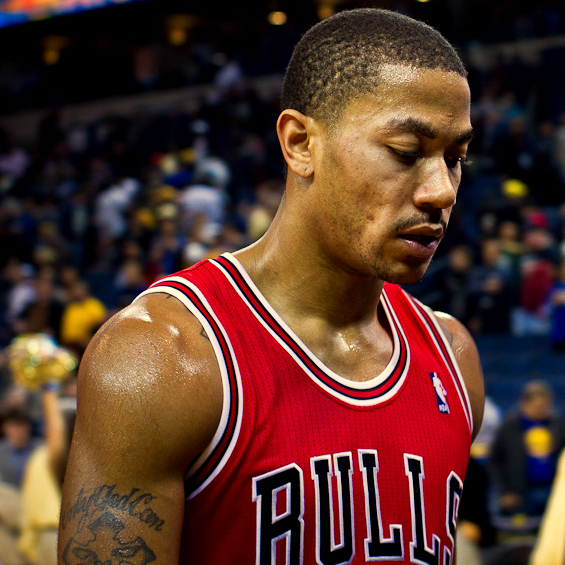 Picasa
In the minds of many fans, Derrick Rose's Hall of Fame chances are questionable, despite the fact he has accomplished a lot during his NBA career.
He was a part of the 2008-09 All-Rookie team and won the 2008-09 Rookie of the Year award;, was on the 2010-11 All-NBA team and was named an All-Star three times (2009-10, 2010-11, and 2011-12); and was the youngest MVP in NBA distory during the 2010-11 NBA season. On top of all of these numbers, Rose has scored an impressive 10,477 points, added 3,112 assists, and pulled down 1,931 rebounds over his career to date.
So what factor would hold Rose back from the Hall of Fame? The answer is simple:  injuries. Rose has been injured countless times, only playing 557 games during his 12-year career.  By comparison, the Atlanta Hawks' Vince Carter has played 868 games during those same 12 years.
So in order to assess the chances of Rose's making the Hall of Fame, we need to look at previous inductees.
Historically, every single MVP in NBA history who has reached eligibility for the Hall of Fame (having been retired at least four full seasons) has been inducted. The argument could be made that Derrick Rose doesn't have an NBA Championship, but neither did Allen Iverson, Karl Malone, Steve Nash, and Charles Barkley all of whom were selected.
Another thing that contributes to the chance of a player making the Hall of Fame are storylines.
If the Hall of Fame were based on storylines, there would be no doubt Derrick Rose would be included. His story, from being the youngest MVP in league history, only to suffer injuries that seemed destined to end his career, but then to bounce back and put up "star" numbers, is more than compelling. Unfortunately, selection isn't based solely on storylines.
An example of another player with a storyline that helped earn a spot in the Hall of Fame is Arvydas Sabonis. Sabonis averaged 20 points, 12 rebounds, 2 assists and 2 blocks throughout his international career, but only averaged 12 points, seven rebounds, and two assists over his entire NBA career. It was his great European play that paved the way for many other European players in later years, and likely why Sabonis is in the NBA Hall of Fame.
According to Basketball Reference, Derrick Rose sits at an 11% chance to make the Hall of Fame, while Al Horford, Jimmy Butler, LaMarcus Aldridge, Kyle Lowry, John Wall, and Blake Griffin all are given higher percentages than Rose. In order to understand why they rank higher, we must take a more in-depth look at these players.
Horford has been a very consistent player throughout his career, averaging 14 points and eight rebounds. He also made the All-NBA Team in 2010-11, is a five-time NBA All-Star, and made the All-Defensive team in the 2017-18 season.
Butler has been named an NBA All-Star four times, was on the All-NBA team twice, has been on the NBA's All-Defensive team 4 times, and won the 2014-15 Most Improved Player award, and has been a very solid star for many years.
Another very solid player throughout his career is LaMarcus Aldridge. Averaging 19 points, eight rebounds and two assists for his career, it isn't hard to see why he has a chance to make the Hall of Fame. On top of his consistency, he is also a 7x All-Star, and was named to the All-NBA Team fve times.
Kyle Lowry is a 5x All-Star, and was named to the All-NBA Team once. But there is one thing that separates Lowry from these other names: he has a championship. Last year, Lowry won the NBA Championship alongside superstar Kawhi Leonard. Winning a championship, especially as an important piece, can boost a player's Hall of Fame chances greatly.
Clearly, there is a pattern with these four players: consistency. Although it isn't Rose's fault that he was injured, it is an unfortunate situation which caused his consistency to become very lop-sided over his career.
But there are two more players to consider, each of whom offers similar circumstances to Rose.
John Wall, like Rose, is a drive-to-the-paint type point guard. He was named to the All-NBA Team once, is a 5x All-Star, and was named to the All-Defensive team once. But like Rose, the thing that could hold Wall back from the Hall of Fame is injuries. Wall suffered a torn left achilles injury last season, causing him to only play 32 games out of the 82 total.  The season before that, Wall played only 41 games. He is projected to sit out for this entire season, and it is hard to say whether or not he ever will be the same.
Blake Griffin offers yet another comparison, and perhaps has the most similar story to Derrick Rose. Griffin was the 2010-11 Rookie of the Year, was named to the All-NBA Team five times, and is a six time All-Star. Griffin relied on his athleticism for most of his career, which likely led to the injury-prone seasons in the middle of his career. After coming back from his most recent injury, Griffin has added a 3-point shot to his arsenal, which is key to becoming an effective player in today's league. To put into perspective just how much better his 3-point shooting became, he had more 3-pointers last season than he made in the previous eight seasons combined. It is because of his improved shooting that he earned a spot on the All-Star team last season, his first since the 2014-15 NBA season.
Like Griffin, Rose has made a career recovery. He stopped relying on his athleticism so much, and has become a much better shooter. This season, Rose is shooting better in every single shooting category than he ever has before. Rose arguably has made one of the greatest comebacks ever, as he went from averaging 8 points per game and moving from team to team in 2017-18, to averaging 16 points again, showing that he is still effective.
If Derrick Rose is able to average close to 10 points for the rest of his career, I will bet anything that he will have a spot in the Hall of Fame. It isn't only the points.  Rose's ability to come back at a rate like this, and inspire hundreds of thousands of fans, is a storyline that has never been seen before. Another storyline that could help his cause is that he is the youngest MVP in NBA history as of right now. While it may be close, I believe that these factors will lead to Derrick Rose being selected for the Hall of Fame when his playing days are over.
All stats and accolades via Basketball Reference