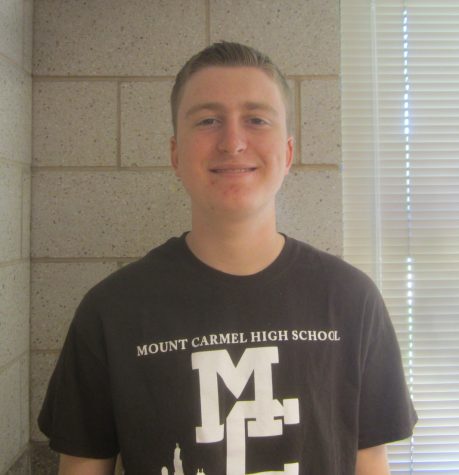 Conor Langs is a senior at Mount Carmel High School.  He resides in the western suburbs, where he graduated from Hinsdale Middle School in 2013.
Returning to 
The
Caravan
 this year, Langs will serve as one of the staff editors.  Outside of Mount Carmel Journalism, he also writes for
Mash Insider
, a high school-driven newspaper published by the
Chicago Tribune
and read by schools across Chicagoland.
In addition to his work with print media, Langs is a returning member of the Caravan Broadcast Network, for which he will be the producer/social media correspondent.  And when he has time, Langs also participates in the school band, playing the saxophone.
A National Honors Society student who is enrolled in several AP classes for his senior year, Langs particularly enjoys taking history and English classes.  He loves to follow and write about various sports, and he plans to major in sports journalism in college.
In his free time, Langs volunteers at the Field Museum, at which he has earned nearly 400 total service hours. Langs is looking forward to the college application experience, especially to schools with outstanding journalism programs.
Conor Langs, Staff Editor
May 10, 2017

Dang, has it been that long?

(Story)

Apr 12, 2017

Vogt to pursue unique major at SLU

(Story)

Mar 29, 2017

South Side YMCA aims to help all generations

(Story)

Mar 16, 2017

Pickert's new cookbook offers inspiration to adolescent chefs

(Story)

Mar 13, 2017

After 70 years, Sister Hurley has "no regrets"

(Story)

Feb 26, 2017

11 student-athletes sign to play college ball

(Story)

Feb 26, 2017

Scanlan hopes to break through with new app

(Story)

Feb 08, 2017

Social media specialist by day; "RedPandaGamer" by night

(Story)

Jan 13, 2017

"Rogue One" brings new perspective to Star Wars universe

(Story)

Jan 10, 2017

Placement test to be held Saturday, January 14

(Story)

Dec 19, 2016

First Presbyterian Church of Chicago continues to serve South Side

(Story)

Nov 27, 2016

Nine Caravan athletes sign letters of intent

(Story)

Nov 17, 2016

Sister Therese O'Sullivan's dedication to the poor thrives even after 33 years

(Story)

Oct 03, 2016

Presidential candidates clash in historic debate

(Story)

Sep 20, 2016

Throw out the records: it's Rita week

(Story)

Sep 15, 2016

3rd floor renovation nearing completion

(Story)

Sep 09, 2016

Former wrestling star joins Caravan staff

(Story)

Jun 03, 2016

"The Jungle Book" not just another remake

(Story)

May 23, 2016

49th annual Honors Banquet recognizes academic excellence

(Story)

Apr 28, 2016

Three important things the Bears' pick needs to know

(Story)

Apr 20, 2016

Travel delays only made the destination sweeter

(Story)

Apr 04, 2016

Kasich will not take "the low road"

(Story)

Mar 16, 2016

Cubs have high hopes in 2016

(Story)

Mar 01, 2016

2016 Chicago Auto Show spotlights innovations

(Story)

Feb 10, 2016

7th grade Border Classic a "huge success"

(Story)

Feb 04, 2016

Swoosh! Nike lands partnership with top brand in high school sports

(Story)

Jan 15, 2016

Top 5 joints for pizza lovers

(Story)

Jan 08, 2016

220 kick off four year journey as Class of 2020

(Story)

Dec 08, 2015

"Advent Action" rings in season of giving

(Story)

Dec 04, 2015

"Mom Prom" heralds start of holiday season

(Story)

Dec 02, 2015

Another masterpiece for "007" franchise

(Story)

Nov 05, 2015

Open house to offer insight into MC

(Story)

Oct 23, 2015

7-1 Caravan looks to capture another CCL title

(Story)

Oct 16, 2015

Hallaren joins the advancement team

(Story)

Oct 01, 2015

New CBN staff hopes to excite Caravan fans everywhere

(Story)

Sep 18, 2015

Wilhelmi hopes to make an impact

(Story)

Sep 10, 2015

Topps brings passion, new goals to math

(Story)