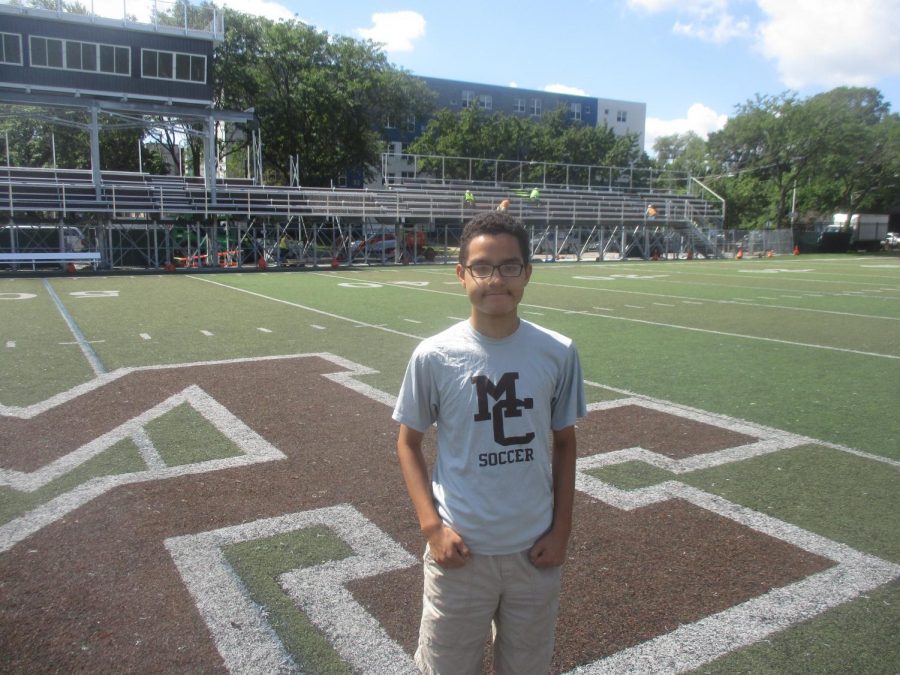 Francisco Enrique Avila attends Mount Carmel High School and plays soccer. He is 17 years old, and his goals are to finish high school and to attend a four- year college or university such as DePauw University in Greencastle, Indiana.
As a kid, Avila grew up on Chicago's north side, although now he lives on the west side of the city.  He attended St. Stanislaus Kostka School for preschool through eighth grade.
Avila has a twin brother Luis, who also attends MC, and an older sister Fabiola.  The strength and effort Avila's parents demonstrated in moving from their native Mexico to Chicago and raising him in the United States motivates him everyday to wake up and give his all in everything he does.  His goal is to make them proud and to make sure their sacrifices were worth it.
Francisco Avila, Staff writer
May 15, 2020

Faculty take different approaches to e-learning

(Story)

May 10, 2020

Adjusting to a "new normal"

(Story)

May 03, 2020

E-learning presents challenges, requires adjustments

(Story)

Apr 24, 2020

Campus "deep cleaning," upgrades ongoing during e-learning

(Story)

Apr 05, 2020

Inventing new recipes is way to keep busy during quarantine

(Story)

Mar 29, 2020

Responses to COVID-19 threat vary

(Story)

Mar 27, 2020

Virus puts seniors' expectations on hold

(Story)

Mar 16, 2020

Soaring with Eagles "puts you in rare company"

(Story)

Feb 25, 2020

At MC, math whiz "not a number; but a brother."

(Story)

Feb 13, 2020

Ragtime to portray 1900s America

(Story)

Jan 24, 2020

Night of Champions to honor Carmelites, McGarry family

(Story)

Jan 24, 2020

Liga Mx generating excitement

(Story)

Jan 09, 2020

Missile strike raises tensions for students

(Story)

Jan 07, 2020

Celebrating a cultural tradition on Epiphany

(Story)

Jan 06, 2020

Mrs. Beavers takes the mantle of La Caravana

(Story)

Dec 16, 2019

Someone you should know: Fr. Tracy O'Sullivan, O. Carm

(Story)

Dec 06, 2019

Buying and selling on GOAT

(Story)

Nov 25, 2019

Mount Carmel heads to state for 18th time

(Story)

Nov 22, 2019

Reality behind Stover Academy and false alarms

(Story)

Nov 19, 2019

Caravan advance to semi-finals for a third consecutive year

(Story)

Nov 06, 2019

A chance to bond, celebrate at soccer overnight

(Story)

Nov 05, 2019

Playoff run continues Saturday against Glenbard North

(Story)

Oct 31, 2019

Caravan to open playoffs vs. Eisenhower Cardinals

(Story)

Oct 25, 2019

Choir begins fundraising for spring break trip

(Story)

Oct 11, 2019

Forging friendships for a lifetime

(Story)

Oct 03, 2019

Delays continue for Obama library

(Story)

Sep 24, 2019

"Nothing less than State"

(Story)

Sep 20, 2019

Howard pursues a life-long dream

(Story)

Sep 13, 2019

"Nothing in my life felt as perfect as Mount Carmel"

(Story)

Sep 09, 2019

Auguste "driven" to support mission

(Story)