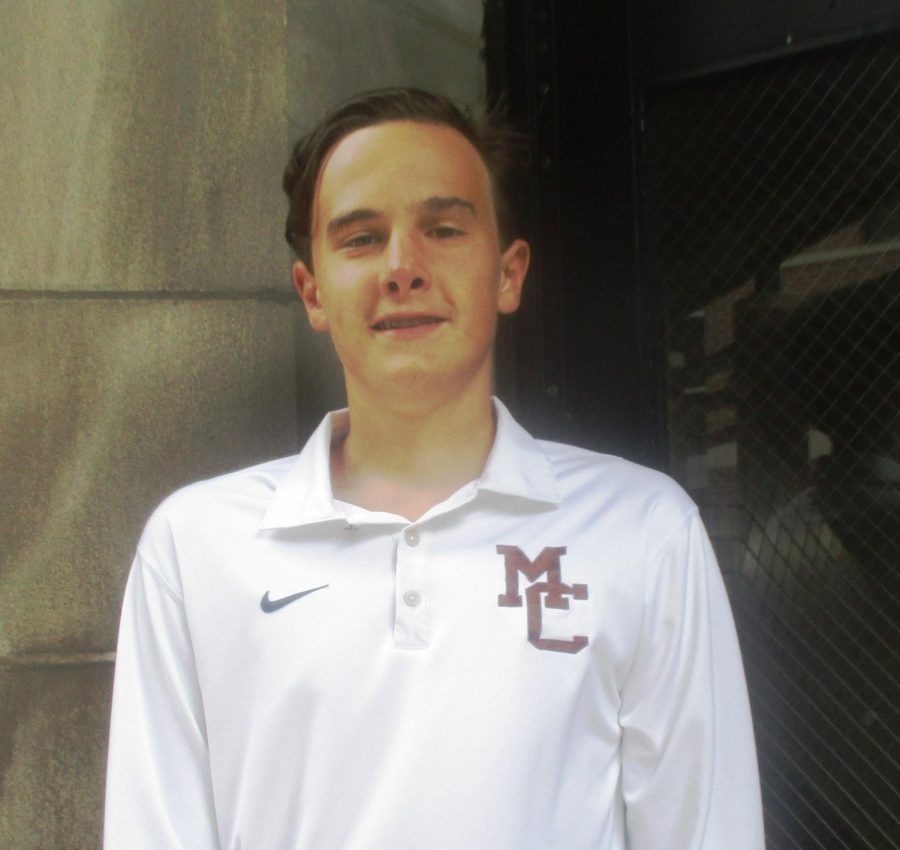 Harrison Moynihan is a junior at Mount Carmel High School who plays golf and rugby for the Caravan. His favorite subjects are English and physics. He particularly enjoys the writing aspect of his English class, and hopes to major in English or social studies at the college of his choice.
In his free time Harrison enjoys watching sports and playing video games with his friends. However, the most important aspect of his life is his family. He lives at home with his dog Matilda, two brothers, George and Simon, his sister Carys, and his mom and dad who have supported him throughout his  schooling . Yet he has found a new family at Mount Carmel High School, and he is working hard every day whether it's golf, rugby, or studying.
As one of Harrison's interests, he likes to travel with his family and see new cultures and ways of life. He enjoys trying the food and activities that captivate people of other countries and religions. From his studying at Mount Carmel, Harrison feels as if he is becoming a better student, son, brother and citizen.
Harrison is not sure what he would like to do as a profession, but would imagine it would have something to do with the arts as he enjoys musical theatre and acting. He has been told by friends and family that he is quite a funny guy, and that maybe he would pursue a career as a comedian or writing sketches for his favorite show SNL (Saturday Night Live). His role model, other than his parents, would be his older brother George, who is studying political science at the University of  Vanderbilt in Nashville.
Harrison Moynihan, Staff writer
May 26, 2020

KBO saves baseball fans

(Story)

May 18, 2020

Tabernacki earns top grades in first year

(Story)

May 10, 2020

Day in the life of a student during e-learning

(Story)

May 03, 2020

Walkathon 2.0: MC needs us – so let's walk (run, sing, play….)

(Story)

Apr 26, 2020

Students must wait to access lockers

(Story)

Apr 04, 2020

Netflix series to binge

(Story)

Mar 28, 2020

Top ten things I miss about MC

(Story)

Mar 22, 2020

As the coronavirus takes over, e-learning becomes "new normal"

(Story)

Mar 06, 2020

Super Tuesday puts Biden in the lead for Democrats

(Story)

Feb 24, 2020

Random kindness just makes sense

(Story)

Feb 12, 2020

Drones are pretty RAD

(Story)

Feb 11, 2020

How I fell in love with NASCAR

(Story)

Feb 11, 2020

Sophomores address hunger during Impact Week

(Story)

Feb 07, 2020

Caravan celebrates own championship on 'Super Monday'

(Story)

Jan 14, 2020

Australian bush fires: warning of climate change

(Story)

Jan 06, 2020

Ragtime auditions set for January

(Story)

Dec 06, 2019

ACT advice: "Take it seriously, but don't stress"

(Story)

Nov 26, 2019

A cornucopia of gratitude

(Story)

Nov 21, 2019

What's in a name? MC becomes Stover Academy (for a week)

(Story)

Nov 12, 2019

Games Club welcomes all on Wednesday afternoons

(Story)

Nov 06, 2019

Best things to do on Veterans Day

(Story)

Oct 31, 2019

Advice to freshmen for their first final exams

(Story)

Oct 29, 2019

A chance encounter with kindness

(Story)

Oct 18, 2019

Bush brings strong belief in inclusive Catholic education

(Story)

Oct 08, 2019

Whelton, Raoul advance at golf regionals

(Story)

Sep 30, 2019

1st floor to reopen week of October 14

(Story)

Sep 17, 2019

There's magic in those pancakes

(Story)