Hamilton experience exceeds expectations
Considering the last Broadway musical in Chicago that I experienced was Shrek, and that occurred when I was seven years old, I was pretty nervous when my mom got Hamilton tickets for the two of us. I had heard how expensive the production was and did not want my mom to waste her money. After seeing the musical, my mom did not waste a penny on those tickets.
Before heading over to the theatre, my mom and I went to Victory Tap, a nice Italian restaurant downtown. After dinner, we stopped at a bakery near the theater called Magnolia Bakery. It had some of the best desserts I have ever had.
After dessert, we walked over to the CIBC Theatre on Monroe Street, excited for the musical. The line to get in was a bit long, and felt even longer in the rain. When we finally were admitted, they were selling only three things at the concessions: alcohol, water and Twizzlers. Mom and I got our waters and headed to our seats.
When I think of Broadway musicals, I think of massive theaters and crowds. Initially, this theater seemed a lot smaller than I expected, but it actually had seats for about 1,800, and it appeared that every seat in the house was filled.
The play started at exactly 7:30.
The whole musical blew me away. From the singing, to the dancing, to the humor, everything was amazing. What shocked me even more was that the music was performed by a live orchestra located in the "pit" beneath the stage!
Going into the musical, I was a bit nervous that I would not like it, but after the whole experience, I would not think twice about going back.
About the Writer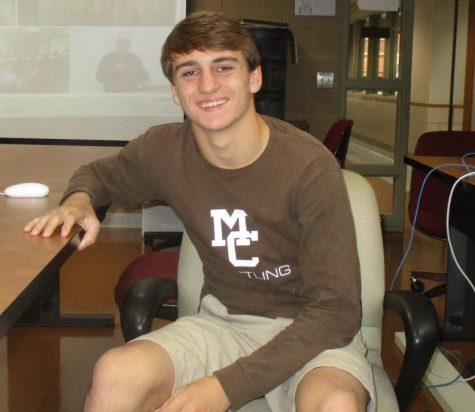 Miles Hoey, Staff Writer
Miles Hoey, a senior at Mount Carmel, is a varsity wrestler who lives on the South Side of Chicago in Beverly. Hoey would love to pursue his dreams of...