An alumnus to remember: James T. Farrell
Advertisement
Hang on for a minute...we're trying to find some more stories you might like.
James T. Farrell may be one of Mount Carmel's most accomplished alums, but unfortunately, he is largely unrecognized by today's students.
Born in Chicago in 1904, Farrell attended our school when it was still called St. Cyril's College (prior to the name change in 1924).  According to a profile posted on Chicago Literature: Critical Writers of the 20th Century (on the umich.edu website), "Not much is known about Farrell's young life."  However, apparently Farrell's father struggled to support his ever growing family, so he sent Farrell to live with his grandparents.
Based on research in Mount Carmel's yearbooks, it seems that while a student at St. Cyril, Farrell kept a fairly low profile, although he was a member of some of the early baseball teams.
After his high school graduation, Farrell went on to study at the University of Chicago, where he found his love for writing when he was 21.
Farrell is best known for a trilogy of novels that revolve around the character of Studs Lonigan, an Irish-American kid growing up on the South Side of Chicago. The novels are set in neighborhoods familiar to MC students, including Woodlawn, Washington Park and Hyde Park. According to the Chicago Literature website, the trilogy is widely considered among the finest novels from the first half of the twentieth century. The three novels include Young Lonigan, The Young Manhood of Studs Lonigan and finally Judgment Day.
After his initial success with the Lonigan trilogy, some felt the quality of Farrell's work declined. While he authored over 50 novels and stories, some complained that his later works were less complex, and the criticism affected him the rest of his life.
Nevertheless, if you calculate the volume of his work, Farrell produced nearly one book every year of his writing career
According to Mr. John Haggerty, Mount Carmel principal, in his later life Farrell found support – both personal and professional – from the Mount Carmel community.  Haggerty recalls hearing from Fr. Leander Troy, a long time member of the faculty, that after an accidental encounter outside school, Fr. Leander and Farrell struck up a friendship and correspondence that lasted many years.  Those letters, which still exist in Mount Carmel's archives reveal both Farrell's disappointment about the lack of recognition and appreciation of the Carmelite's support.
Farrell passed away on August 22, 1979, in New York City.  He is buried in Calvary Cemetery on Chicago's north side.

About the Writer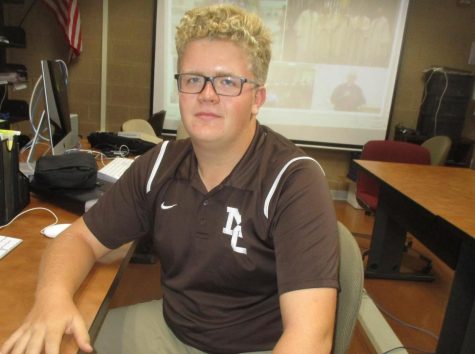 Nick Gulotta, Staff Writer
Nick Gulotta is a junior at Mount Carmel High School in Chicago, Illinois. Gulotta grew up in Lansing, where he attended Memorial Junior High School. Gulotta...