There's magic in those pancakes
Unless you are either too sleepy or living under a rock, you probably have noticed the  occasional presence of catering trucks outside of the student center. As tempting as the smells of pancakes and sausage may be, it's obvious that the catering is not intended for the students.
Along with the various trucks and trailers that take over the west side of the parking lot, the catering service is brought to campus to support the production of "The Chi," a Showtime program currently being filmed in the area.
"The Chi" explores life on the South Side of Chicago, including  the violence that so many experience. The story explores the reality that in society today, at any moment a small decision can dictate life or death.
Created by Lena Waithe, the series is filming some episodes at The Point in Jackson Park, and recently has been using portions of the Mount Carmel campus as a staging area for its crew, as well as for parking and meals.
On the days when The Chi cast and crew visit MC, the most visible aspect of their presence is the catering truck. So mccaravan.org thought it would be interesting to get an insider's view from the perspective of a caterer.
The man who prepares the food, who goes by the unusual nickname, "Scary," offered some interesting information about his job. He has catered for big productions such as the second and third "Scream" movies, and he has also cooked for the "Green Lantern" and the TV program "Sleepy Hollow."
He says depending on the day he might prepare several different foods, and because of the unpredictable nature of films, he often works 17 hour days. This was the case last Wednesday when the day's filming did not "wrap" until 5 am. He is willing to do this because "movie and TV stars need their fuel to perform their best."
As you might expect, given those long hours, "Scary's" favorite part about his job is "the paycheck."
So, next time you see the catering truck is on campus, give a shout out to "Scary" and all the other cast and crew who create the magic of TV and movies.
About the Writer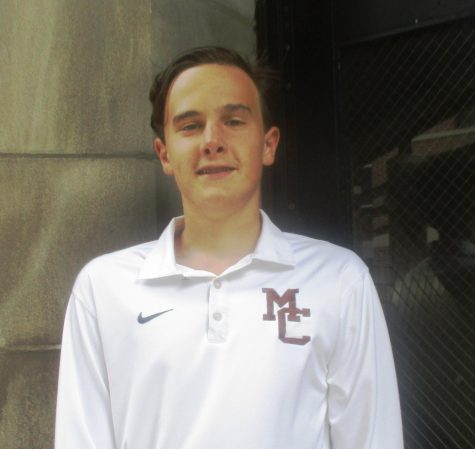 Harrison Moynihan, Staff writer
Harrison Moynihan is a junior at Mount Carmel High School who plays golf and rugby for the Caravan. His favorite subjects are English and physics. He particularly...