Forging friendships for a lifetime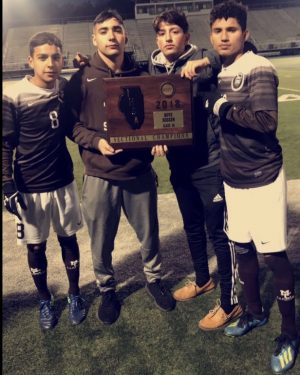 Throughout Mount Carmel's four years of struggle and work, students make connections and relationships that will last a lifetime.
As a freshman, you're often told by teachers that the guy next to you might one day be your best man, so you might as well get to know each other. While no one knows for sure whether this will actually come to pass, if Mount Carmel students form a strong enough bond, those relationships may truly last a lifetime.
In the case of four men from the Class of 2020, that kind of bond already can be seen.
In just three years, seniors Felix Mendoza, Xavier Nolasco, Marc Carmona and Damian Rincon have formed a friendship that many dream of having. These four guys have had experiences that they'll remember in years to come, such as when Nolasco and Carmona cheered in the stands as Damian and Mendoza won the Sectional Soccer Final in the 2018 – 2019 season, and afterwards joined the celebration on the field and cried with their friends.
"It was a historic moment right there," said Mendoza.
Carmona comes from Bridgeport where he attended Santa Lucia, the only one of the four to attend a Catholic grammar school.
Mendoza came from Garfield Ridge, attended Mark Twain Elementary; Nolasco grew up on the East Side and graduated from George Washington Elementary School; and Rincon, from Lansing, went to Memorial Junior High.
While the four young men came from different schools and different neighborhoods, they soon found that they had much in common, including their hispanic heritage and culture, and their love of sports. More than that, they discovered the value of friendship.
Carmona, who plays the outfield on varsity baseball, believes that having someone he can count on "means the world to me." He added that it means a lot "just to know that people will have my back."
Mount Carmel High School is a gateway for men from 120 different zip codes and 200 different grammar schools to form friendships and relationships that will last a lifetime.