Reality behind Stover Academy and false alarms
This past week, a production company from NBC has been on campus filming an upcoming episode of Chicago Fire.  Reportedly, the plot revolves around a student who repeatedly pulls the fire alarm, causing the squad to respond several times to the false alarms.
While the production crew clearly went all out to create a realistic story, even changing every sign that referenced Mount Carmel to signs for the fictional Stover Academy, they didn't get everything quite right.
One thing that many students noticed was that when the "extras" who were impersonating students evacuated the school, they were wearing overcoats. Realistically, if a fire-alarm sounds, no one stops to get their coats from their  locker.
Mr. Frank O'Connor, who works in Mount Carmel's visitors office as part of our security staff, is a retired Chicago firefighter. In fact in his 40 year career, he rose through the ranks to become a battalion commander.
O'Connor pointed out another unrealistic aspect of the filming: during the evacuation scene, "The kids were way too close to the building."
But O'Connor had a more important observation.
As a firefighter, O'Connor experienced 10 to 12 false alarms a day. With a false alarm, O'Connor pointed out that , "Everyone is in danger." As the firefighters race to an alarm that's false, "you put the people on the street, those driving automobiles, and firefighters themselves in danger."
O'Connor experienced that danger personally. Responding to a false alarm at a public school, he was thrown off a moving fire truck and spent two weeks in the Micheal Reese Hospital. He suffered a head injury, a broken leg, as well as  other injuries, some of which he still feels today.
To O'Connor, false alarms are neither a joke, nor something to be easily dismissed.
While the plot of the Chicago Fire episode is yet to air (it's expected to be shown sometime in January), O'Connor hopes that the character responsible for the fictitious fires receives appropriate consequences.
After all, O'Connor points out, as firefighters, "We are out basically helping people."
They certainly don't need to be placed in danger unnecessarily.
About the Writer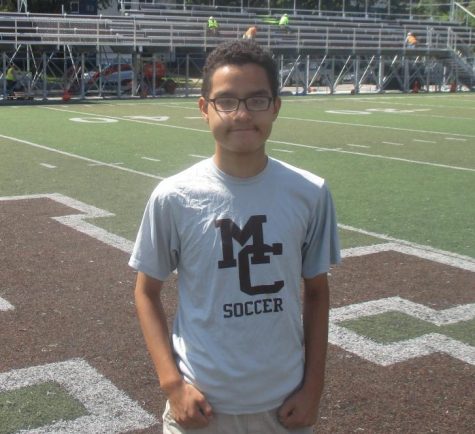 Francisco Avila, Staff writer
Francisco Enrique Avila attends Mount Carmel High School and plays soccer. He is 17 years old, and his goals are to finish high school and to attend a...