Top ten things I miss about MC
With the coronavirus  shutting down school, I have found myself thinking a lot about school.  While at first, having school closed seemed like an unexpected vacation, I have begun to realize how much I love school, and the many things – big and little – that I miss.
Here are ten reasons why I miss school:
Chicken fingers in the cafeteria. The chicken fingers are made out of real chicken, believe it or not, and are a highlight of my day. They pair very well with ketchup and they are always hot.
Walking  to my classes and seeing many friendly faces in the hallways.
Mr.Williams playing his good, but outdated, rock music at the beginning of class. This would put me in the mindset to really attack my work.
The constant debates about trivial things, like who is the greatest hockey player of all time.
Kids cracking jokes in class. For example junior David Wright is renowned around school as a class clown. Students like David always lighten up the mood before a big test or exam, and most of the time his jokes are all in good fun.  Even the teachers have a belly laugh.
 The seniors: I miss the opportunity to  spend as much time as we can with them before they leave for college.
Morning announcements:  They have become increasingly more witty and more entertaining during my time at Carmel, and it has been strange waking up without them. However, even if we are not together at school,  we can still join for morning announcements on Mount Carmel's Instagram page. Mr. Tabernacki is consistently posting morning announcements as well as a morning prayer.
My locker: I always keep myself tidy and organized. If you could see how I am currently working at home with a mountain of paper and useless garbage on my desk, you would understand why I miss my locker so much.
The parking lot: I miss the constant honking of cars for comedic effect, and kids pretending to get hit by another student's car.
Most of all, I miss Mount Carmel and everything that comes with it:  the highs, lows, and everything in between. Coronavirus – please pass so we can return to school.
About the Contributor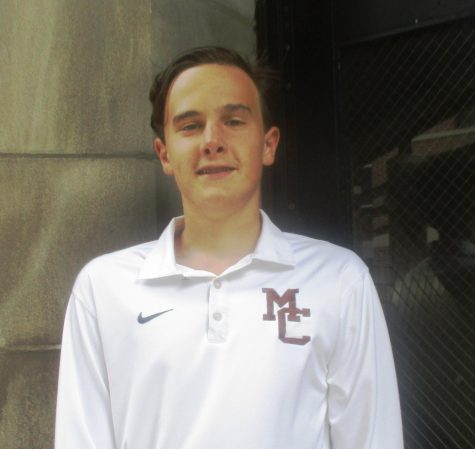 Harrison Moynihan, Staff writer
Harrison Moynihan is a junior at Mount Carmel High School who plays golf and rugby for the Caravan. His favorite subjects are English and physics. He particularly...