Netflix series to binge
Considering that we have a lot of time on our hands that must be spent without social contact due to the coronavirus, many people are binge watching television series on Netflix. In case you are in need of some suggestions, I thought I could recommend some of my favorite Netflix series as of late.
The Circle:  The Circle is a reality tv/game show where the show's participants move into an apartment building with each other, but there is a twist. The show's participants are not able to meet one another in person and have to communicate entirely behind a screen. The goal of this game is to become an influencer because the influencer determines who gets eliminated from the game.  Every week, all of the players vote to select the two most popular players.  Those two players can ultimately block people from being eliminated or eliminate them from the game. The last man or woman remaining, wins.
The Walking Dead: You can't go wrong with zombies. The Walking Dead and its immense success demonstrates that the popular apocalyptic villains are still relevant. The show revolves around a group of survivors in the months after a zombie apocalypse, who must survive by any means necessary. Officer Rick Grimes is the main character. As a former police officer, he is the only survivor who knows how to fight the zombies.  As the show continues, the individual survivors find their own ways to win.
Norsemen: Let me begin by saying that Norsemen is not a show for the faint of heart. It is a heavy and gory show that follows a Viking, named Jarl Varg, through his everyday life. He participates in raiding surrounding towns and killing lots of innocent people on the orders of his warlord. However, if you can stomach the blood, many characters have a great sense of humor and contrast the violence and drama with comedic relief.
Honourable Woman: Nessa Stein is a woman in an unusual predicament. Alongside her brother, she inherited her father's arms dealership.  However, she is a passionate advocate for peace between Israel and Palestine. This is not a new series but it is good one.  It won a Golden Globe and has been nominated for many other prestigious awards. It might be a recommendation for older folks. It is my dad's all time favorite show that he recommends to everyone. It is only one season and does not require a huge time commitment.
I hope that I have given you some exciting new series to binge watch while you are stuck inside. If we all stay inside and watch great Netflix series, then we can beat the virus. Stay inside!
About the Writer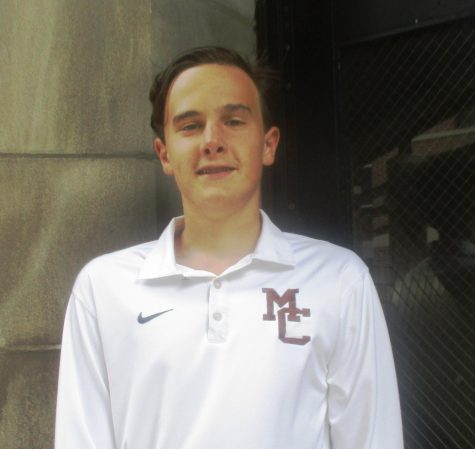 Harrison Moynihan, Staff writer
Harrison Moynihan is a junior at Mount Carmel High School who plays golf and rugby for the Caravan. His favorite subjects are English and physics. He particularly...