Walkathon 2.0: MC needs us – so let's walk (run, sing, play….)
Because we are not physically at school, some might think that our great annual tradition of the Mount Carmel Walkathon has been cancelled. But that is far from the truth.
The walkathon is still happening. In fact, it is going on right now! And the importance of this event is greater than ever.
Due to COVID-19 and the stay at home order, Mount Carmel has had to cancel many of its spring fundraisers, including Fight Night and the Mother's Club Fashion Show.  Obviously, that means that it will be harder for MC to fundraise this year.  However, Mount Carmel relies on these fundraisers to raise necessary funds for financial aid.  So, while the decision to still hold the Walkathon was partly to carry on tradition, it also raises needed funds to balance the budget. However, after texting many classmates to inquire about their plans for this event, it became apparent that an alarming number of students did not know that the Walkathon was still happening.
This was slightly disturbing to me and many others including, my Studium advisor, Mr. Daniel Haggerty, who has had difficulty getting his Studium to participate.
"I have had little to no response. While not entirely surprising, it is a bit frustrating."
Haggerty feels there are several reasons for the limited response.
"Students have a lot to keep track of right now, and likely are receiving a lot of email communications (regarding e-learning)."
Nevertheless, he stresses the importance of this year's walkathon.
"I hope that your article helps to raise awareness of the fundraiser, and helps students to recognize how important the fundraiser is this year."
Principal Scott Tabernacki also is encouraging students to do whatever they can to help raise money in order for all of us to receive a greater education.
"All of that (money) goes back into providing the best education possible to our young men."
Tabernacki also thinks that given the adversity of this pandemic, committing to the event displays what our school stands for.
"Carrying on with this event shows the spirit that we have and the grit to overcome any obstacle."
While the event had to be re-imagined this year, Tabernacki is hopeful that by using social media and e-donations, "our reach will be far and wide."
The man who put the whole event together, Mr. John Stimler, stresses the importance of remaining a strong community at this time.
"We will stand together, fight together, and succeed together."
He also recommends that students watch Mr. Tabernacki's morning announcements for valuable information on the walkathon as well as other news about our school.
Stimler also believes that now, more than ever, giving to the school shows the strength of the MC community.
"The fundraising efforts through the Walkathon provide a concrete way for us to pledge our commitment to working hard through this struggle, knowing that hard work pays off.  (Our students) will be better prepared to face a world and life that will be filled with hurdles."
Mount Carmel needs us now more than ever. This is our chance to show our school how grateful we are for our education and our community which we are all missing right now. Even if you can only raise a little money, it will make a big difference. Let us show the World that we can come together as a community and achieve greatness. That is what Mount Carmel has taught us, and now is the time to put it into action!
About the Writer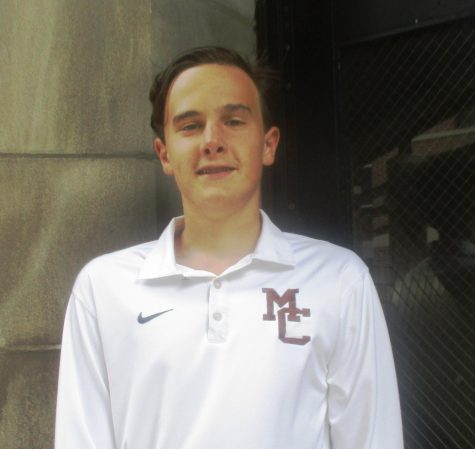 Harrison Moynihan, Staff writer
Harrison Moynihan is a junior at Mount Carmel High School who plays golf and rugby for the Caravan. His favorite subjects are English and physics. He particularly...