Conroy looks forward to getting to know the students and carrying out traditions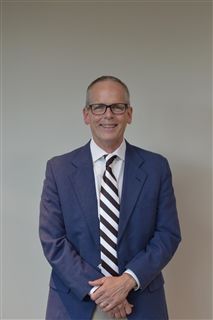 What does he plan to do as the new president of Mt. Carmel High School? Mr. Brendan Conroy wants to make sure that all students and parents of MC can still follow through with their traditions and live with zeal.
Mr. Conroy is a proud parent of 5 children, Nora (age 31), Lucy (28), Jimmy (23), Pete (20), and Ceci (17) and lives in Chicago's Beverly neighborhood. When asked how important education is, he says that it is very important, and he isn't necessarily looking for straight-A students but rather for students that give it their best.
Not only does Mr. Conroy look for this in current students but he has impressed this on his own children. "You don't have to get all A's," he says he has told the Conroy kids, "but you have to give it your best."
Mr. Conroy states that he loves the Catholic education system and how Mount Carmel goes through with Catholic education. "You need to work hard," he says, "and maximize on the gifts that you have."
As a school, Mr. Conroy says that this lesson is something that MC instills in its students. He says so far his time at Mount Carmel has been great, and he has enjoyed interacting with the faculty, staff, parents, and students. "Carmel is a win, win, win school," he says, referring to wins in the classroom, in spiritual development, and on the field and court.
Mr. Conroy hopes that all students know that they are cared for by faculty and staff. He says that he loves the way the school and MC community treat students and loves the diversity of the school
It is also a unique time to be taking over such a position in a school since America is still amid the Covid-19 pandemic. "We are going to abide by CDC [guidance for COVID-19 prevention in K-12 Schools], local state and local health guidelines," he says now that all MC students are back on campus every school day, "and the great thing is that our families have been understanding and cooperative during the entire pandemic."
Mr. Conroy knows that sophomores, juniors, and seniors have had an unorthodox high school experience so far with the previous year and a half impacted by Covid, and most of those students were not able to have a full Mt. Carmel community experience or the feel of togetherness on the school during that time, so everyone being back together each day is important.
Aside from education, Mr. Conroy says that his faith is very important in both his professional and personal life, and Mt. Carmel fits that for him. "For 122 years," he says, "Mt. Carmel has offered a Catholic, Carmelite education for deserving young men who seek our mission to live with 'zeal for God, for life, for learning.'"
So after teaching and working in administrative roles at other Chicago Catholic schools, what does he see as unique about MC? "We embrace the struggle, and we embrace the work ethic," he says, "and I think that happens at other places, but it's really important and prominent here, and it's a quality that makes us different from other schools."