Mr. Baffoe returns to MC as a teacher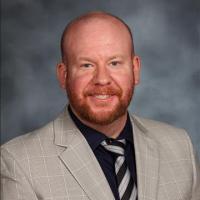 "When I was in high school, if you would've told me I was going to be a teacher, I would have called you nuts," says Mr. Tim Baffoe, a 2000 graduate of Mount Carmel.
He is the newest English teacher at MC and has been a teacher for 15 years now. After initially pursuing a Theatre major at the University of Iowa he realized that he wanted to be a teacher. Mr. Baffoe took his studies to Governors State University, where he achieved a bachelor's degree in English/Secondary Education and later a master's degree in English.
In Mr. Baffoe's senior year at Mount Carmel, he played a lead role as the Devil in the play Damn Yankees. He has seen plenty of change happen to Mount Carmel since then. The Commons and Cacciatore Gym were built on top of the student parking lot from when Mr. Baffoe was a student. The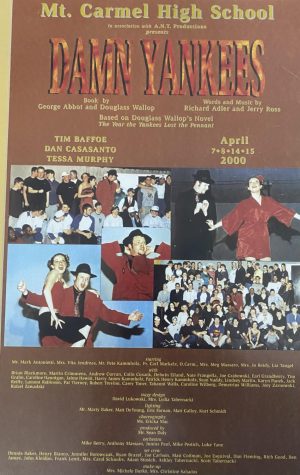 newer student parking lot is built where Saint Cyril Academy was during his time as a student.
Although there has been lots of change since 2000, Mr. Baffoe still remembers walking through the hallways on the first floor going to his locker right outside of Room 107, where there is now a mural of MC history instead of lockers.
"Coach Nolan hasn't changed in 20 years," he also notes.
"Mount Carmel feels like a family," Mr. Baffoe says of his favorite part of the Mount Carmel traditions. Mr. Baffoe always tries to tell his students to "think outside of the box" without giving a huge speech and boring them to sleep. In his classes, he tries to tell his students to "see how something relates to your life."
Mr. Baffoe has also worked as a sportswriter, which makes it fitting that he teaches the class that produces the Caravan newspaper. He wishes the best for the students in his 21st Century Media course that aspire to make it in the media world. There are a few students in his 21st Century Media class that want to go further than just the high school student newspaper. And Mr. Baffoe is the best resource for those students that they have available daily.
"There are only so many spots on TV," Mr. Baffoe says. " [Media] is a job that you really have to love," Mr. Baffoe says, because of the hard work and slim opportunity to make a lot of money in it.
Mr. Baffoe definitely made the right decision to become a Man of Carmel once more. Whatever or whoever he made become a teacher steered him along the right path.