Ms. Cronin joins the McDermott-Doyle team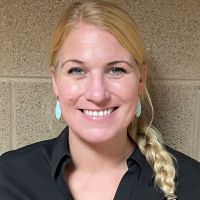 She never thought she'd end up here.
Ms. Erin Cronin is the newest teacher in the McDermott-Doyle program. Ms. Cronin was raised on the South Side in Beverly and grew up in an Irish Catholic parish. As a kid, she participated in dance and softball as well as Irish dancing.
After attending St. Barnabas she attended Mother McAuley to continue her Catholic education. "I think in high school I had visions of becoming an actress or something a little more that was dream-based," she says. "I didn't really know [what I wanted to study] until I went to college."
In high school Ms. Cronin was in theater and drama club. Although becoming an actress was her dream, over time she started thinking more realistically about things, especially with college around the corner.
After high school, Ms. Cronin attended Marquette University. "I did not go into college studying to be a teacher," she says, "however I did start education classes my freshman year, but it was more or less influenced by speaking to some friends and trying to gauge what I wanted to do."
Ms. Cronin eventually started being intrigued by education from having phenomenal teachers. One that she recalls was Ms. Madday. "I'll never forget her," Ms. Cronin says, "she was one of those teachers that really impacts your life. I think when I got into college and had to start thinking about what I wanted to do she was one of the first people I remembered from high school."
Graduating from college Ms. Cronin first taught sixth grade at Sutherland Elementary. She did one-on-one learning with kids and describes it as a great experience. After teaching at Sutherland Ms. Cronin eventually had her eyes set on Mt. Carmel. "This is what I'm very well trained in," she says about teaching boys "I've been a mother of boys for eleven years," she says. "Boys are kinda of all I know if someone would told me when I was younger that I would ever teach at Mt. Carmel I would of never believed them."
Ms. Cronin is currently raising two sons and is very passionate about teaching at an all-boys school. Being a part of the McDermott-Doyle faculty, her job is to not only teach but to encourage students to give it their all in any subject they face. "In McDermott-Doyle it's a big part of our job to motivate our students and to keep them focused on the work because it's easy to get distracted," she says. "I always tell my students I am going to give them one hundred percent and I hope I get that back in return."
Ms. Cronin also boxes as a side hobby. "Almost four years ago I decided I wanted to try something different," she says. "I was never really an athlete. I was more into dance and theater."
She does boxing mainly for exercise and to relieve stress. Going forward she got her USA boxing coach license and started a class for teen girls.
Ms. Cronin is looking forward to her teaching career at MC. She is willing to provide for any students that are at a disadvantage when it comes to academic readiness. Ms. Cronin enjoys her time here and the Mt. Carmel community welcomes her with open arms.