Mendoza carves out more than a state championship
Freshman Seth Mendoza has already established himself as a name known around Mount Carmel. He won state in Class 3A wrestling this year at the 106-pound weight class, commanding his way through the bracket and scoring bonus points in every match of his state series. 
Mendoza's dominance in the face of one of the toughest schedules in the country is a testament to his wrestling prowess. However, his talents are not limited to wrestling, however. 
The freshman is also a talented woodworker, a hobby he has been doing for a few years now.
"It started during the initial lockdown," says Mendoza. "I didn't have a whole lot to do besides working out, so I decided to find a new hobby."
Woodworking caught Mendoza's eye by being inexpensive, interesting, and relatively straightforward. The nature of the hobby means that once you have the tools, the only expenses to continue woodworking are some paints and stains and the wood itself. Mendoza primarily uses sheets of thick plywood in his works.
"I usually just buy a big sheet of one-inch thick plywood," says Mendoza. "I get four-foot by four-foot sheets most regularly, but when I'm making something big or a lot at once I get a four by eight sometimes." 
Mendoza sometimes works on several projects at a time. "The most separate projects I have ever done at once was when I made six American flags with the MC logo on them for the wrestling seniors this year."
American flags are Mendoza's specialty. "It's pretty simple to make the American flags, and I like being patriotic." 
The way that Mendoza makes these flags is fairly straightforward, just carving out the wood into the desired shape with various saws, drills, and chisels. He then paints and stains the new shape created into the desired colors. This same process is used for most of his work. However, he has begun to experiment with new and far more advanced designs. 
"Flags were a really easy starting point, since they're basically just a rectangle with rounded edges and some lined indents," he says. "But I am trying out some new stuff, like sculptures and other things."
Mendoza says his next big advancement he is hoping to make in his woodworking skills is the ability to make complex two-dimensional shapes. 
"I'm gonna still do mostly flat works for a while," he says. "I just think 3-D shapes are a little too advanced for my skill level right now."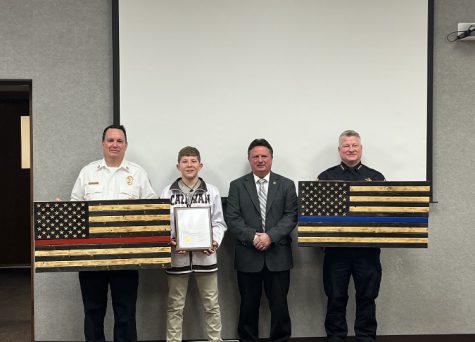 Mendoza has given his creations to numerous organizations and people, including this year's senior wrestlers,  head wrestling coach Alex Tsirtsis, and even the fire and police departments of Mokena, IL, where Mendoza lives. Being able to present his creations to his hometown was a unique experience.
"It was great to do something nice for the firefighters and police," said Mendoza. "I really appreciate what they do and I'm glad to be able to give them a little gift, no matter how small."
So while Mendoza is definitely best known for his wrestling ability, he has many attributes that make him a well-rounded individual, not the least of which is his excellent woodworking ability.