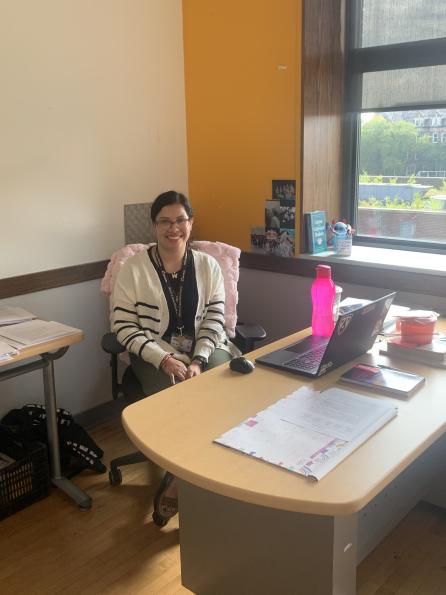 Ms. Jennifer Ramirez is technically a new addition to the Mount Carmel faculty yet also a familiar face to the MC community. 
Ms. Ramirez was raised in Harvey, Illinois, where she attended Thornton Township High School. Before high school, she always wanted to become a teacher.
"I have always known I wanted to be a teacher at a young age," Ms. Ramirez said. "It kind of varied on what I wanted to teach."
She first wanted to teach art, which her older sister was very good at, but soon realized she wasn't the best. Her younger brother's preschool was also very influential, which led her to think about teaching younger students. She soon realized that younger kids weren't for her. When she got older and into high school, she fell in love with English because of one of her teachers. Ms. Ramirez then settled on teaching English at the high school level.
After graduating from Thornton, she went on to attend Saint Xavier University in the Mount Greenwood area of Chicago. During her time at St. Xavier, she majored in Secondary Education and English. In her senior year, she began a student-teacher position here at Mount Carmel from January to May of 2023. 
She is now the youngest teacher at MC this year. But 6410 wasn't her first pick when she was deciding on a school to be a student teacher at. As someone who was raised in the public school system, Ms. Ramirez was more interested in working in a public school than a private school.  
"I ended up choosing MC over the other school, but MC kind of fought to have me here,"  Ms. Ramirez said. 
Just last year, Ms. Ramirez found herself teaching some of Mr. Brooks Nevrly's and Ms. Kerrie Fagan's classes, which is how many around campus already recognized her at the start of this school year.  Very quickly many students have grown to respect her way of teaching.
"Ms. Ramirez coming back to Carmel is a good thing," said Michael Uribe '24, who had her for English 3 last year,  "because many of us had her when she was just a student teacher, and now she could help us graduate just as we helped her." 
A lot of students are happy to see her return. Many seniors also see her as a good way to learn more about college, especially from someone who just graduated last year.
Ms. Ramirez also wants to get involved in the MC community outside of the classroom. She recently started the new Video Games Club. Don't get it confused with MC E-Sports though, as this club is more for casual gamers and an escape for students after school. 
"I had a couple boys come up to me and fight for me to be the moderator," Ms. Ramirez explained. 
She also is excited to see what the Spanish Club has planned and became an Assistant Moderator in the Multicultural Club.
Ms. Ramirez also has been attending MC sporting events.
"I do hear the parents and families cheering them on, but wish they could be louder," Ms. Ramirez says.
Other than the Student Section being as great as it is, she wants the adults to join in on the cheering more. 
Although she loves how our sports teams are doing, her main focus is in the classroom. When most students walk into her classroom, she plays Dua Lipa or Bad Bunny. When a student complains in class, she plays her small violin which plays depressing music to show how much a student's complaints don't faze her. Most students find that hilarious.
"I find it very funny when she plays the world's smallest violin," senior Aidan Murray said, "It keeps the class entertaining and makes the atmosphere more enjoyable and engaging."
From the comments from the students so far this year, many are very happy with the return of Ms. Ramirez. 
So far she has been a great addition to MC. She works work to ensure that all of her students are participating, passing, and reading the in-class literature. Many of the students hope to see her continue her time at MC and wish her a great year.
Story continues below advertisement