Have you ever been scrolling on social media and suddenly a man wearing a brown MC polo shirt excitedly says, "Hey, Caravan Nation!" with various parts of Mount Carmel's campus in the background? 
This man with such enthusiasm is Mr. Noel Bax, an MC graduate of the class of 2001 and a recent addition to the admissions office here. As the Director of Student Recruitment, Mr. Bax spends most of his time trying to connect with prospective Caravan students and their parents, whether that be on social media or in person. He returned to MC last May and has since seen just how different MC is from when he graduated here just over twenty years ago.
"Being here everyday and being around old coaches brings back some memories," said Mr. Bax. "Obviously there's been some changes since I left."
Having worked at MC over the summer, Mr. Bax got accustomed to the new coaches and faculty members that weren't here when he was a student. 
"It's awesome to be back here," said Mr. Bax." "It took some time to adjust just in terms of how things are run."
While Mr. Bax may be very used to the Mount Carmel community as he is a graduate, his love for MC began when he was just a little kid. 
"I grew up near St. Thomas More in Wrightwood," said Mr. Bax. "Everybody was really close and there were a lot of kids that grew up on my block." 
Mr. Bax has emphasized that the tight knit community in Wrightwood as well as the tradition and legacy of his father, who graduated from MC in 1971, impacted his decision to attend Mount Carmel. 
"My earliest memories in life are getting in my dad's convertible and driving down to Gately Stadium to watch some Mount Carmel football games," said Mr. Bax. "Most people in the neighborhood cared about college football or the Bears, but we were all in on Mount Carmel."
After many years of watching and supporting the Caravan, Mr. Bax was finally ready and excited to attend Mount Carmel.
"[Former freshman football head coach Ron] Szczesniak called me the night before I took the entrance exam," said Mr. Bax. "He and I were really optimistic about that year."  
Like most freshmen at Mount Carmel, Mr. Bax started off high school on the freshmen football team. He met friends through summer practices and got a feel for what being in high school was really like in those first few weeks.
"Mount Carmel and I have been best friends for quite a while," said Mr. Bax. "I still look back on my freshmen year every now and then."
After his freshman year, Mr. Bax continued his love for sports and bought into the MC experience all the way until he graduated in 2001. 
After graduation, Mr. Bax attended college for a short amount of time before making a big decision to leave Chicago.  
"I lived in California for 13 years," said Mr. Bax. "I moved out there when I was 23 years old."
While away in California, Mr. Bax looked into some career paths such as modeling and acting, all the while checking in on MC over social media and online. 
"I would always keep an eye on Mount Carmel from afar," said Mr Bax. "I thought I had moved on from being a part of the Caravan, but I didn't know that being here everyday was so special." 
Mr. Bax eventually moved back to Chicago in 2020, starting a podcast as well as working at a Culver's that a family member was the manager at. Mount Carmel was always a part of Mr. Bax's life, but after being back in Chicago for three years, he knew it was time to come home. 
"My wife, Carol, told me that this job at MC would be perfect for me," said Mr. Bax. "That was a big reason why I realized that coming back to Carmel was the right decision to make."
Since coming back, Mr. Bax has reignited his passion for Caravan sports by announcing the football season opener against East St. Louis with the Caravan Media Group, posted about sports events at MC over social media, and has also become good friends with those in the coaches' office.
Now that Mr. Bax is back, he is already spreading what it means to be a part of the Caravan over social media and in person. While he tried out a lot of different career paths after graduating from MC, he eventually found his way back home and is ready to help out however he can. 
So if you're ever scrolling on Instagram and see a guy talking to the Caravan Nation, now you know how he got there.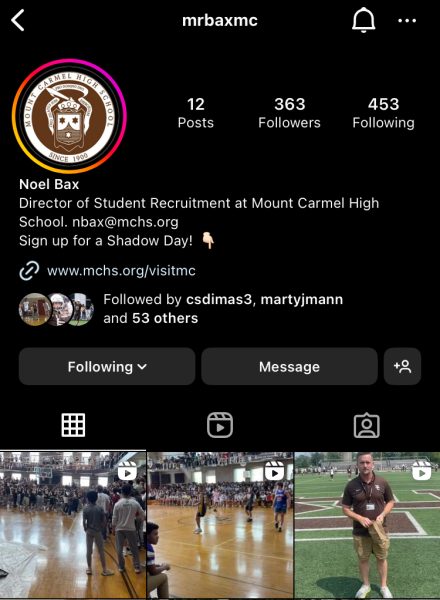 Story continues below advertisement