Good food, limited entertainment living in "the Heights"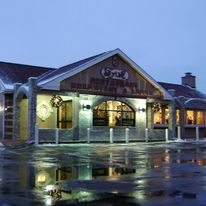 Chicago Heights is a medium-sized south suburb that holds a population of 39,000.  Residents often refer to it as just "The Heights."  The community was founded in the 1890s by Charles Wacker (after whom Chicago's Wacker Drive is named) as a mixed use residential and industrial suburb.
It is very common for families who live in the same area to know each other. Most of the time when you leave your house, there is always someone you know, whether you go to the store or to a restaurant.
But as a resident, I have to admit that there isn't much to do in the Heights. Before COVID-19, families would go to the Marcus Cinema, the local movie theater, for entertainment. On Tuesdays, all movies would be only one dollar, which was a great deal considering the normally priced $15 dollar tickets.
Since there are not many places to go in the Heights, many families go to surrounding neighborhoods such as Olympia Fields, Flossmoor and Homewood. The closest grocery store is Walmart, and next to that is Meijer's, which is located in Flossmoor. Now if you needed a hardware store, you would have to drive about fifteen minutes to Homewood where Menards and Home Depot are located.
Among the few places that Chicago Heights is known for are Skyline, a breakfast and lunch stop; Burrito Station, a Mexican restaurant; and The Heights DMV (Department of Motor Vehicles).