Father-Son Dinner features Lester Munson
Hang on for a minute...we're trying to find some more stories you might like.
On Tuesday, October 24th, Mount Carmel's Fathers' Club hosted the annual Father-Son Dinner.
The well-attended evening event started with a talk from the president of the Father's Club, Greg McKay. He talked about what the Fathers' Club is, what they do, and encouraged all the fathers to join. McKay then introduced many members of the Fathers' Club before the secretary, Tom Pasciak, led prayer. First, the fathers blessed their sons, which was followed by the sons blessing their fathers.
The following meal consisted of salad, spaghetti and chicken parmesan, all of which was provided by the Fathers' Club.
After dinner, it was time for the guest speaker, Lester Munson, who has been a legal analyst for ESPN. He spoke of all he has been a part of in the sports world, including the famous "Deflategate" Tom Brady was involved in, and gave those listening advice from his experiences – do something as a career that you enjoy doing, be prepared to overcome adversity and give back to the community. Munson answered questions from the audience about his experiences and opinions involving the legal issues behind various sports stories and stayed after to pose for photos and talk to fathers and sons.
It was another successful Father-Son Dinner.

About the Writer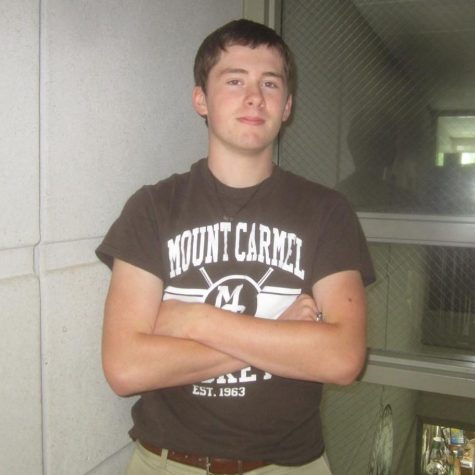 Andrew Walsh, Staff Writer
Raised Catholic in Beverly's Fisher Parish, senior Andrew Walsh came to Mount Carmel after years of looking forward to attending Mount Carmel like most everyone in his family had before. Andrew came in knowing he was going to play hockey for Carmel, which he has continued for all four years. He also picked up a new sport in water polo, where he has played every position. Andrew is also involved in other non-athletic clubs at Carmel, including the Writing Club, Scholastic Bowl, and more recently the Caravan Broadcast Network (CBN). Writing is something Andrew enjoys, which helps him in his honor and AP classes. By writing for The Caravan and CBN, Andrew hopes to improve his writing skills and possibly purse something English related in college. But the future is still open for whatever road is the most appealing.