First look at 1st floor renovation
Since 1924, that same old hallway in Mount Carmel has always been a historic one, a welcoming one, and one with years after years of students putting their books and backpacks in their lockers. Since the 1970s/80s, there were always those same old carpeted classrooms that provided a more comfortable learning experience for the students of Mount Carmel. But this year, that same old hallway that provided a perfect walkway to the historic gym will be changed forever.
Although the look of the historic hallway will be gone, nobody can deny that it's time for a change. Following the 3rd and 2nd floor renovations, the 1st floor was due for a change as well.
Marketing and Strategic Planning Director, Mr. Tony DiFilippo, gave some news about the 1st floor updates. Although the first floor classrooms will be much like the other two, the hallway itself will have an entirely different look, as there will be no lockers. Instead of lockers, there will be a series of new displays that highlight our school.
The first of these displays will be a group of four video screens. These screens can work alone to depict their own individual story, such as welcoming shadows or other guests, or recapping game footage from athletic events. These screens can also work together to provide one large image that will provide reminders, or even excerpts from Mount Carmel's social media pages.
The second display will be a historical collage include a collage of the old newspaper front pages that used to hang in frames above the lockers. This display will keep the same "historical" feeling, maintaining memories from the original hallway for any alumni who decide to come back for a visit.
The final two additions will be a tribute to the Carmelites who have served at Mount Carmel, and a section recognizing the professional accomplishments of notable alums.
While some may be concerned about the deletion of lockers on the first floor, but according to former principal John Haggerty, there are over 900 available lockers, even without using the first floor.For the immediate future, senior lockers will remain in the basement. If the basement is renovated in the future, the class locker assignments will be reviewed.
The other area of the main building that has not been renovated is the Alumni Gym. When asked if he thinks that historic space will ever be re-done, DiFilippo commented, "I don't believe so. There is a certain type of feeling you get when you enter that gym. A feeling of intimidation." This feeling of intimidation and nostalgia is likely the reason the Alumni Gym hasn't and will never be changed completely.
About the Writer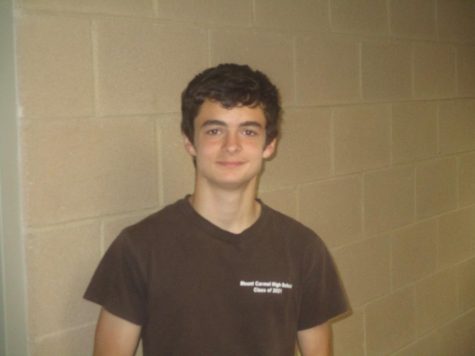 Joseph Williams-Tubay, Staff writer
Joseph Williams-Tubay was born in Chicago, Illinois, and attended Saint Benedict Preparatory School. He now attends Mount Carmel High School as a junior....