What's in a name? MC becomes Stover Academy (for a week)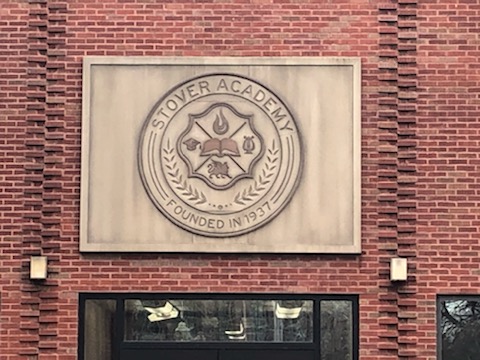 This week a film crew from the NBC dramatic series Chicago Fire is on campus filming scenes for an upcoming episode. In order to fictionalize the setting, Mount Carmel High School – at least for this week – has become "Stover Academy."
As a result, the film crew has been busy changing signs all around campus.  Among the major signage that has been changed to reference "Stover Academy" are those on the exterior of the Student Center and above the doors in the Prayer Garden, as well as the scoreboard and championship banners in Cacciatore Gym.  Changes are notable especially in the gym where you will be bombarded by signs that say "Stover pride!" or "Go Lions!"
In addition, the brand new murals in the first floor hallway have been covered by similar murals featuring the fictional name and colors of Stover Academy.  The production crew even went so far as to put up a fictional teacher's name and college history outside Rm 106, replacing the name and college information of Mr. Scott Sortal.
As unsettling as these temporary name changes may be for some, this is not the first time Mount Carmel has had a name change. During the first two decades of its existence, the school was known as St. Cyril College.  (In that era, the school featured both a high school and college curriculum.)
However, MC historians like Mr. Bill Nolan will point out that when the name change took place back in 1924, a much more radical option was given consideration.  If things had turned out differently, Mount Carmel might today be known as "Fort Dearborn High School."
About the Writer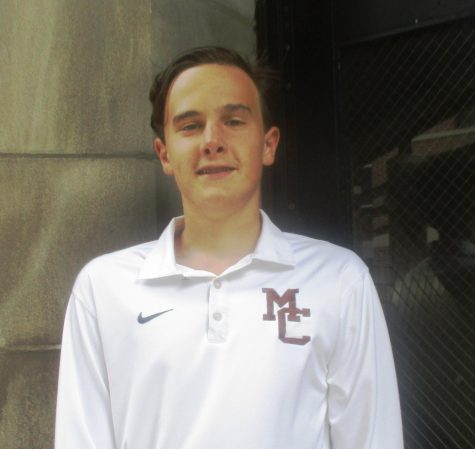 Harrison Moynihan, Staff writer
Harrison Moynihan is a junior at Mount Carmel High School who plays golf and rugby for the Caravan. His favorite subjects are English and physics. He particularly...