Responses to COVID-19 threat vary
Recently, according to the CDC Live Map, the number of COVID-19 cases has continued to increase daily on a global scale. The top seven countries that have experienced the greatest increase of those affected by the virus include China, Italy, Spain, United States, Germany, Iran and France
In Illinois, all schools including Mount Carmel have been closed by order of Governor J. B. Pritzker through April 7. In Indiana Gov. Eric Holcomb said in a statement (in an article published on WGN on March 19) that all schools will be closed until May 1 amid the COVID-19 outbreak.
Personally, for me and my family, we haven't yet experienced the true impact of the virus. However, like everyone, we are taking all the necessary precautions as instructed by Gov. Pritzker such as staying home and keeping six feet of distance from others at all times.
My father, Enrique Avila, like most, understands that the coronavirus is dangerous and demands an unprecedented response. Still, he sees some positives in the situation.
"It's the responsibility of all of us to resolve to do the correct thing, to follow what the government advises us to do to be able to minimize the spread of the virus.  But this virus gives the opportunity to spend more time with your family. While we are most aware of the situation in our country, we need to realize that we are not the only country that's had problems."
One of my friends from summer camp at Northfield Mount Hermon, a 16-year-old Paris citizen, Carl Chambert, shared through text his firsthand experience with the coronavirus and described how it has dominated his life over the past few months.
"I feel quite depressed because I cannot go anywhere in my city, the most affected in France. I have two friends affected and two from the floor just above me from my apartment. In terms of safety, we cannot go anywhere except to the supermarket, outside with the dog or to the hospital. The police are in the street, and they give a fine of 160€ if you don't respect the law."
While Chambert's present circumstances are challenging, he and others in France don't forget to salute and thank those in the medical field who work tirelessly in helping those affected.
"Every evening at 8 p.m. we all applaud for the doctors in the hospital from our windows – everyone and every day – no joke!!"
While France and the United States are two countries engulfed by the virus, another summer camp friend, 16-year-old Mohamed Ouattaran from Abidjan, Ivory Coast, texts that the effect of this virus hasn't really hit yet.
"I feel neutral, for now. I think about it, but not that much. I don't want to think about it every time, so I prefer to be neutral towards coronavirus. Personally, for now, I'm not directly impacted. I know it's a fact that it's dangerous, but I'm careful about everything I do."
Globally, everyone knows the severity of this virus.  However, hearing from friends like Chambert and Outtaran, I've come to realize that COVID-19 has brought us together.
About the Writer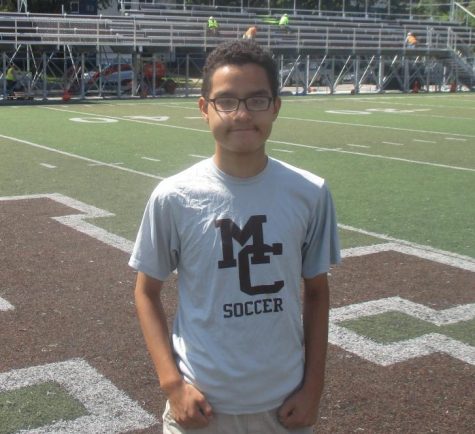 Francisco Avila, Staff writer
Francisco Enrique Avila attends Mount Carmel High School and plays soccer. He is 17 years old, and his goals are to finish high school and to attend a...