As e-learning winds down, teachers look to future
After the COVID-19 shutdown, it seems like many places will take a little while to become normal again, especially the more populated places.
Among those densely populated places that likely will face a great amount of changes when the pandemic is over are the schools across the world.
Many Mount Carmel teachers and staff members have begun to consider what a "normal" school day could look like post-pandemic, and have come up with some ideas that they believe could be implemented when the school year returns.
Mr. Mark Antonetti, English and Mandarin teacher, while admitting uncertainty about the future, also offers words of encouragement to the students.
"I have no idea what the future holds. I only know that our students will overcome any obstacle, whether it's with plan A, B, C or D. Mount Carmel is not a place, it's people. We are people who struggle and work. So, let's struggle and work wherever we are. Let's communicate with each other so that we can support, inform and inspire each other and the world."
Theology teacher Mr. Dominic Scheuring had a similar thoughts, seeing an unclear future. However, Scheuring offered a possible plan for the future.
"I suspect we could see something like a group-based system where in-school attendance is done in certain cycles. Students would be split into certain groups and would only be allowed to come on campus on certain days. Another idea is to rearrange classes in such a way that teachers move from room to room instead of students."
Mr. John Stimler, Director of Mission and Ministry and theology teacher, expresses three different possibilities depending on the way the virus spreads or is contained: returning to school like normal; a hybrid of some school and some e-learning; and a full-on e-learing experience.
Stimler hopes for things to return to normal, expressing the importance of a normal classroom experience.
"I think we have discovered how critical that shared time in class is. So much work is done collectively in a classroom setting that it is difficult to duplicate online."
So while the future remains unclear, we can continue to hope for brighter days even as we plan for new possibilities and challenges.
About the Writer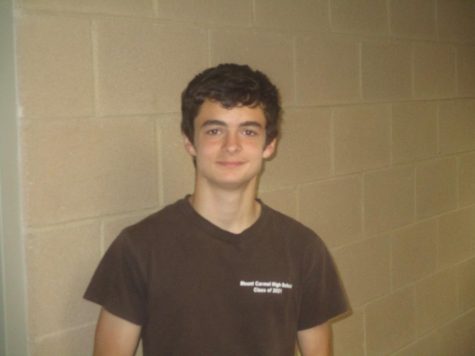 Joseph Williams-Tubay, Staff writer
Joseph Williams-Tubay was born in Chicago, Illinois, and attended Saint Benedict Preparatory School. He now attends Mount Carmel High School as a junior....