Freshman Impact Week emphasizes 'Care for God's Creation'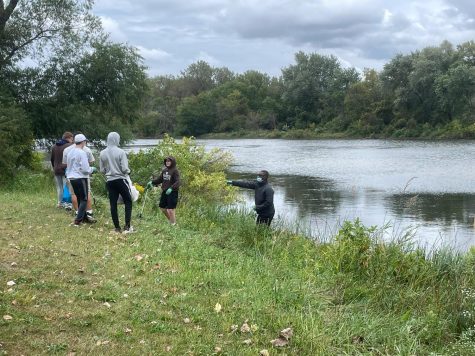 Picking up trash is a task not many are inclined to do. 
Freshman Impact Week is a yearly event that has provided young men at Mount Carmel an opportunity to clean up the environment. As of now climate change has affected the world greatly. Some environmental problems consist of increased heat, drought, health impacts, and wildfires. 
"The program was developed eight or nine years ago and is based on the principles of Catholic Social Teaching," stated Mr. John Stimler, Director of Mission and Ministry at MC. "The first principle, Care for God's Creation, is an important one today given all the discussions of climate change." Catholic Social Teaching demands that we show care for our environment and the creation of life. 
Mr. Stimler describes Freshman Impact Week as engaging. "Those guys are out doing stuff helping people in various ways."
Those ways include freshmen laying out mulch in park reserves and picking up trash. The students also spent part of Impact Week learning valuable information at places like the water treatment plant at Navy Pier and the Sand Ridge Nature Center in South Holland.
"What Freshman Impact means to me is to help the community out, to save the Earth," says MC freshman Corey Calavillo. "It's very personal to me because I don't want my brother, sister, or anyone living in a world of grossness. It's necessary that we protect these green spaces and our environment as a whole to preserve beauty instead of destroying it."
Freshman Impact Week also included trips to city parks, forest preserves, and a Japanese prayer garden. Calavillo said the prayer garden was his favorite stop of the week. "It was very different from what I'm used to," he said. "You don't really expect that in the city."  Japanese prayer gardens are often used for meditation and self-reflection, quite the contrast to much of the hustle and bustle of the city. 
Freshman Impact Week is also a time to build a strong bond between classmates as they helped out the environment. "I met a ton of new people and a lot of new friends," said MC freshman Gordon Goodwin. He described Freshman Impact Week as "another way to get introduced to the Mount Carmel way and to also help the environment at the same time." 
This year was Mr. Manuel Medina's first experience as a chaperone for Freshman Impact Week. "With my division for sure we struck a pretty good rapport." Throughout Impact Week the students managed to fulfill their purpose of cleaning the environment.  "We had a goal to accomplish together and we were able to accomplish it together," said Medina. 
To end the freshman week of service the entire class visited Rockefeller Chapel at the University of Chicago, but were not allowed in because entrance to Rockefeller Chapel is an MC rite of passage or reward granted to seniors. 
Visiting Rockefeller Chapel and recognizing this place as a possible end result of the struggle and work that goes into the Mount Carmel student experience is an ideal way to end Freshman Impact Week. The freshmen were granted this service opportunity to build strong bonds with each other and clean the environment as a group. The experience seemed beneficial to all involved as a chance to learn and to do good for others.