MC sophs gain understanding of domestic and teen dating violence
Mr. Tim Baffoe's Honors English 2 classes recently finished reading the novel Breathing Underwater by Alex Flinn, a novel that has to do with domestic violence and teen dating violence.  As a related project, those students also created t-shirts advertising statistics and facts about those kinds of violence and testimonials from survivors and wore those shirts during the school day on Monday, October 25. That same day those students welcomed two members of the Board of Directors at A New Direction – Beverly/Morgan Park, an organization that works with survivors of domestic violence. 
"At my previous teaching job, my students had read the novel that my sophomore's here at Mount Carmel now read," said Mr. Baffoe. "The novel is told from a perspective of a teenage boy who is both a victim of abuse but also an abuser."
Domestic Violence can happen to anyone no matter what age or background.  Breathing Underwater's narrator is a popular kid in school, plays on the football team, gets great grades, and has a wealthy father.
"The narrator's name is Nick," said sophomore Isaac Alcala, "and he has an abusive relationship with his father leading to eventually putting that negative energy towards others."  
The MC students had positive reviews of the reading experience.
"The book itself was good as it shows a way for teens to treat one another right," said sophomore Daniel Banks. The reading provided a perspective not often given in works students read in school–that of an abuse victim-turned-abuser.
"I thought it was a good book that can relate to your own life," said Alcala. 
Even though the novel is fiction, the novel refers to real-life things that go on in the world such as domestic violence. "It's the happiness that you can put towards it and translate it into real life," said sophomore Joe Nolan. It is good to relate to anything that's related to the real world including domestic violence even if you don't experience those kinds of violence.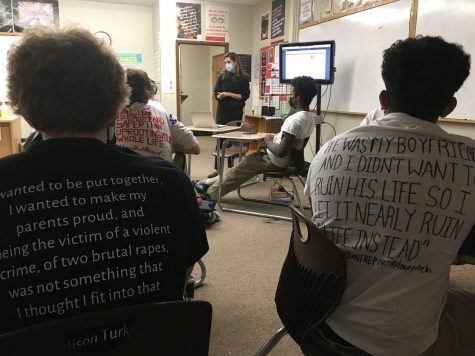 Mr. Baffoe's students were given the option to either write an essay for their project or create the shirts. Almost all decided to go the t-shirt route.
"Some [of the statistics and testimonials on the shirts] were about the number of people who get raped and abused and also about solitude that goes with all that," said Banks. 
Mr. Baffoe has had representatives from A New Direction speak to students about these issues before.
"A few years ago, I spoke to a friend of mine, Jessica McCarihan, who is on the board of A New Direction and we decided to have one of their members speak to students about awareness of domestic violence and teen dating violence," said Mr. Baffoe.
McCarihan was joined by Marie Ferro-Lusk, who gave an interactive presentation to the Honors English 2 classes about awareness of teen dating violence.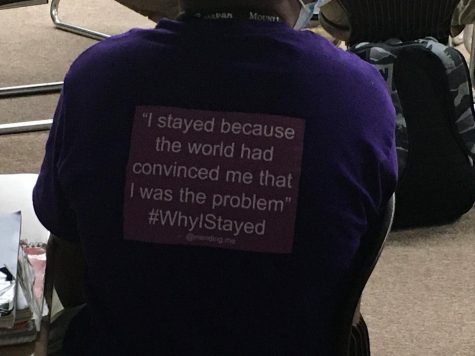 "One thing I remember was them showing the percentages [of violence incidents in relationships] during the presentation," said Alcala. The stats and stories that Mrs. Ferro-Lusk shared with the students were eye-opening.
"The examples that they gave out such as abuse being about power–I try to apply that to my life," said Banks.
The goal of the guest speakers was trying to get across to the students' how serious domestic and teen dating violence is and also how to be better aware of it.
"Domestic violence can affect anyone from any background," said Mr. Baffoe. "The character in the novel is someone that, from the outside, a lot of people would be jealous of, yet he's a victim and perpetrator of abuse."
These MC sophomores gained a greater perspective on a very serious issue while helping to inform the school community with their projects at the same time.