MC community steps up for Blood Drive
For some, stepping out from a comfort zone is hard, but the result can be life-saving.
On March 16, 2022, Mt. Carmel's annual Blood Drive was held. Mrs. Julie Chappetto, who has taught art at MC for twenty years, has been the host of this Blood Drive for eighteen years now.
The goal of donating twenty-one units of blood was a success, and for every unit of blood three lives will be helped, so sixty-three lives will be saved thanks to the MC Blood Drive. Coming back in person for the first time since the Covid outbreak, it raised great numbers. "We try to have two or three blood drives a year," says Mrs. Chappetto, "This will be our first in-person since the fall of 2020."
The blood drive wouldn't be possible without the help of Vitalant, the organization that collects blood from donors. The blood being donated will be going to people who have gotten into accidents, have had surgeries, and suffer from a variety of cancers. It's all being donated for a good cause, and the price to pay to donate is worth it. "I honestly don't feel like the process is painful at all," says Mrs. Chappetto. "I want people to understand that your short twenty minutes of being uncomfortable is a lifetime for somebody else."
Donating to the blood drive comes with getting over the fear of sitting in a chair and having blood extracted. Mt. Carmel Principal Mr. Scott Tabernacki was more than willing to donate without hesitation. "I think it helps," said Mr. Tabernacki, "It seems like a minimal sacrifice I need to make, and I kind of like the fact of doing something like this, whether it be uncomfortable or maybe even a slight bit painful, in order to support a better cause."
Vitalant asks that donors put something in their bellies and hydrate beforehand. "I ate well a couple of days before, drank a lot of water, and got some rest," said senior Connor McKeown.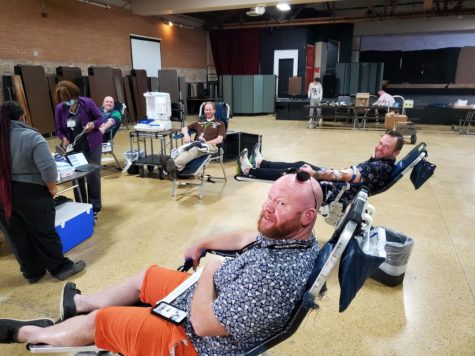 The situation in Ukraine has led to many people providing their blood in order to save lives for a place that needs it the most. McDermott-Doyle instructor Mrs. Maggie Bush has a fear of needles, but that did not stop her from donating blood. "I don't really love needles, and I've had issues in the past with blood draws," says Mrs. Bush. "It was still important for me to donate, but I was super nervous about doing it."
Mr. Tim Baffoe, an MC English teacher, thinks everybody should donate blood. He believes that even if someone fears needles, the outcome is worthwhile. The operation is fairly painless and simple enough for people willing to donate. "I think it's about doing something that's bigger than yourself," said Mr. Baffoe. "Especially I think it's a small sacrifice to make."
Students stepped up to the plate as well. "People need blood," said senior Patrick Sullivan who donated. "People die if they don't get it so we're saving lives."
Students and teachers alike have contributed to this blood drive by being a donor. Some find it uncomfortable to sit in a chair and wait nervously for fifteen minutes with a needle in their arm. Overall the cause is life-saving and only takes a few minutes out of the day to donate blood for someone in desperate need. "I think that ultimately it's a small amount of time and a small sacrifice for us to make for people that really need it," Mrs. Bush, "It's worth it to help somebody out, especially if you're able to."