Something no student at Mount Carmel has ever experienced is back.
This year Studium has been brought back to the schedule. Currently there are no students in MC who have experienced Studium, which has not existed at MC since 2019. Instead, current sophomores, juniors, and seniors have known Division in previous years, which Studium now replaces. 
"People would be exposed to and would be with people they wouldn't necessarily see on a regular basis," said Mr. Bill Nolan, the school's vice principal regarding much of the motivation of instituting Studium past and present. "It's trying to expand everyone's horizons." Studium's main feature was that it included people of all grade levels and guys from different areas. 
Story continues below advertisement
It happens after the sixth period on most Tuesdays, Thursdays, and Fridays. There are twenty-four different Studium sections with all containing a mix of freshman through seniors. There are teachers to lead each Studium, and students will be with the same Studium for all four years at Mount Carmel, with new freshmen joining a fixed Studium after its seniors graduate. Mr. Dominic Scheuring's Studium likes to play card games and board games during this time, and it's created an instant bonding experience.
It was originally removed when school adjustments had to be made due to COVID-19 and then subsequently replaced with Division, which had involved mostly housekeeping issues and important announcements. Division was similar to Studium except it was with people only from a student's grade level, and students were often allowed to leave Division to go to club meetings or finish a test with another teacher, whereas in Studium students must remain in that classroom as various discussions and activities will be planned and held there throughout the year. 
After adding Division to replace Studium, some of the faculty wanted it back. "Some of the teachers that were around for Studium talked about how much we missed it as a community," said Mr. Nolan. 
There was a lot that Division could not do that Studium did, especially the mix of grade levels. This provided ample time for interaction between seniors and freshmen so that the older kids could assist them with homework or ask general questions about the school or just bond as Carmel brothers. Mr. Nolan said it's good for there to be a time for the older guys to show the younger ones what being a Man of Carmel is all about.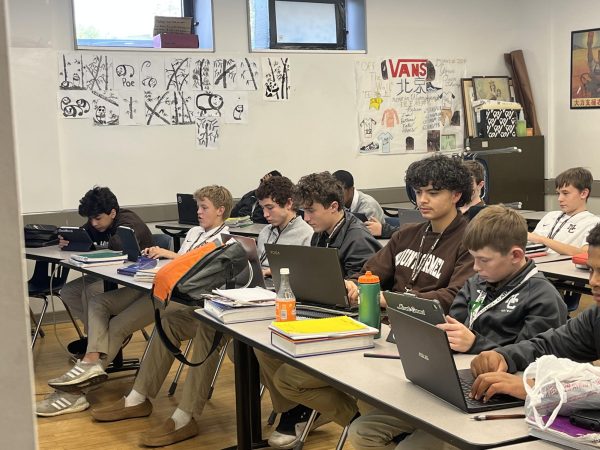 In the prior version of Studium there were competitions held between either individual Studiums or groups of them. "There was this Caravan Cup that is still down in the trophy case," said Mr. Stimler. You could win points for the Caravan Cup through all sorts of good behavior, like having a high GPA and no dress codes. The Caravan Cup ended with Studium but the system of events had been on the downturn for years before. 
There have been mixed responses from the student body about the change. Some are really happy about it, while others wish we had stayed with Division. 
"Grade levels should not be a barrier between sociability," said Dominic Mancilla '25. "And that's what Studium does for us." Some of the older students find this as a great way for underclassmen and upperclassmen to interact and socialize with each other. Some freshmen however think that it would be easier if it was like Division where everybody was from the same grade level. "I think it would just be easier if it was all Freshman," said Gabriel Valerio, class of 2027.
Not all freshman are of the same opinion however, "They are more experienced in the school, they've been there for longer," said Nicholas Lodato '27 about being able to spend some time each with upperclassmen. "I think it's important to see how you could turn out in this school."
It is yet to be seen if Studium being back at Mount Carmel will be a positive or negative, but the faculty are in agreement that there were things that Studium had that we lost. 
"I think it was needed," said Mr. Nolan. "I think we need to have that bonding, this mentoring that happens. It's something that can't be programmed. It's something that happens organically."