"It's great to do it with the guys," said Jack Walsh '25. "I like having fun with them."
This was after experiencing the last month of practice with the diverse learning students from Ray Graham Training Center High School through the new Mount Carmel extracurricular, Caravan Connections.
This year MC has officially become a partner school with Special Olympics Unified, which is a rather new organization founded three years ago that combines on sports teams students from special education programs with typical learning students. The MC team has just finished up the flag football event and has three more events to be played in basketball, track, and bass fishing respectively. Caravan Connections has been extremely popular among students so far, with up to forty members joining for just the flag football tournament alone.
The flag football team was made up of three Ray Graham and two MC students for a five man team on the field. Practices were held during school in fourth period with one or two practices a week for a month before the competition. Mrs. Margaret Joyce-Moroney and Mr. Tony Panatera are the faculty leaders of Caravan Connections and help by coaching and doing various administrative tasks.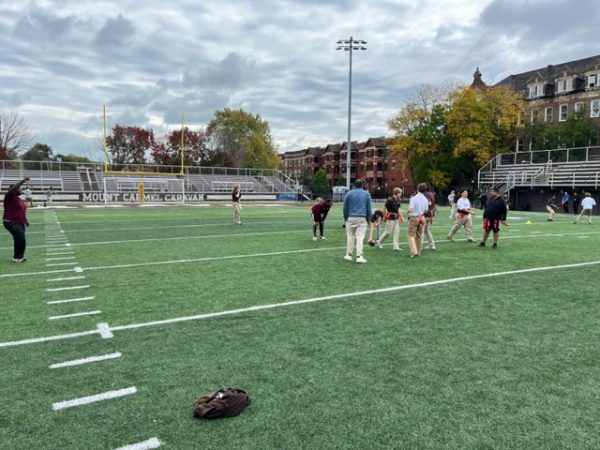 Mrs. Joyce-Moroney thinks that Caravan Connections is a really great opportunity for the guys to interact with students who have special learning requirements. "You get to see that the students that are in a special education school are just as capable as [a Mount Carmel student is]," said Mrs. Joyce. "They are the same kind of kids that are interested in the same kind of things."
Story continues below advertisement
Caravan Connections started after freshman Owen Morgan's mom, who is a teacher at Ray Graham, talked to principal Mr. Scott Tabernacki and vice principal Mr. Bill Nolan about becoming a unified partner with MC over the summer. MC agreed and Mr. Brooks Nevrly, Student Activities Director, sent out an email looking for staff moderators. Mrs. Joyce-Moroney has a special education background, is a special education teacher, and has been involved in Special Olympics before, so she was the perfect choice to become one of the Caravan Connections moderators.
When she first started Caravan Connections, Mrs. Joyce-Moroney wanted to make it clear this was a collaborative activity with both the Ray Graham and MC students working together. "The Mount Carmel students are not coaching the Ray Graham students," she notes. "They are working together on a team."
During the practices for flag football, a couple of select juniors really stepped up to be team leaders. "Declan Deering, Colin Kelly, and David Fidler have done a really great job to lead Caravan Connections," said Mrs. Joyce-Moroney.
Fellow teammates also thought that Deering, the starting quarterback for the team, really gave it his all to make the team the champions they are. "Declan Deering is a great team leader," said Walsh.
During the flag football competition this past Tuesday, the MC Caravan Connections team took first place in a dominating win against Saint Ignatius Unified, 42-12. They also beat a multitude of teams from across the Chicagoland area. "We never lose, it's Mount Carmel," said Walsh in regards to their odds of winning before the competition.
At the beginning of Caravan Connections Mrs. Joyce-Moroney thought that the Ray Graham students surprised a lot of the MC guys. "A lot of the MC guys were surprised at the physical abilities of the students at Ray Graham," said Mrs. Joyce-Moroney. "They're just like any other typical eighteen year old guy."
MC students enjoyed practicing and hanging out with the guys from Ray Graham. "It's nice to help make their day when they come to MC for practice or a bonding event," said Deering.
While MC may have taken first place in the flag football portion of Caravan connections, there are still three other sports to go and plenty more competition. Basketball is next, and hopefully they can take first place there as well.
So far, though, Caravan Connections is proving to be not only a popular addition to MC but also a valuable one to the students.
"It broadens the scope of the MC students' ability to see outside of the Caravan community," said Mrs. Joyce-Moroney.