Nick's picks for great eats
Eating is something we all have to do, so if you're going to eat out,you might as well pick a good place. Here are a few of my favorite restaurants that I suggest everyone should try.
My go-to Italian restaurant is Tufano's, located on 1073 West Vernon Park Place in Chicago. Unless you know exactly where Tufano's is and what it looks like, it may be a challenge to find. Tufano's doesn't have any identifying signs; it just looks like a regular building. Another interesting difference is that unlike other restaurants Tufano's doesn't have menus; customers choose menu items from a big chalkboard on the wall.
My favorite item is the sausage and peppers. I don't know why I like it so much, but in my opinion, other restaurants can't compare with Tufano's. Along with the sausage peppers,  I enjoy the lemon chicken with potatoes. It is grilled chicken seasoned with  pepper and obviously lemon flavor as well. The best way to wrap up a meal at Tufano's is with a cannoli.
For me, the best deep dish pizza place is Uno's Pizzeria at 29 E Ohio Street in downtown Chicago.  The restaurant opened in 1943, and is a really small restaurant. I'd say at the most they have 30 tables, and only two tables that can sit as many as five guests.  Somehow whenever I go I don't end up waiting that long to get a table.
The best choice at Uno's is the deep dish sausage pizza. Uno's sausage is different than other pizza places. Normally, pizza places will put sausage in pieces all over the slice, but Uno's has one patty of sausage across the whole slice. One point of interest for my family is that there is a picture of my mom on the wall. Once while she was there, someone was taking a picture for a newspaper article, and she happened to be in the picture taken to accompany the article.
My favorite fast food restaurant is In-N-Out Burger. It's a franchise, and the bad part is that In-N-Out is only located on the West Coast. Nevertheless, whenever I go on vacation to somewhere out west I have to get food from In-N-Out at least once.
In-N-Out is different than all other fast food restaurants because their food is freshly supplied and prepared for every customer. My go-to from In-N-Out is a Double-Double, which is a double cheeseburger which comes with fries and a drink.
No matter what one of these restaurants you choose I can guarantee great food and great service.
About the Contributor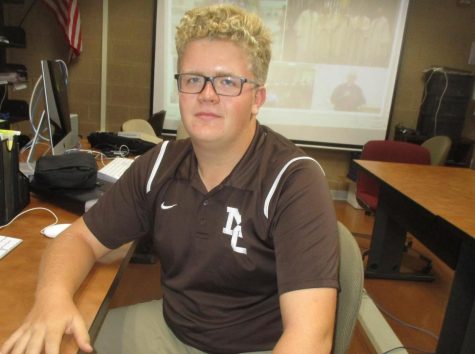 Nick Gulotta, Staff Writer
Nick Gulotta is a junior at Mount Carmel High School in Chicago, Illinois. Gulotta grew up in Lansing, where he attended Memorial Junior High School. Gulotta...