NBA Eastern Conference predictions
The NBA is in a very good state at the moment. Teams are even, rivalries have already been introduced from previous seasons between players or teams as a whole and every team seems to be in a competitive state, competing for that championship trophy.
Although the Eastern Conference is not as competitive as the Western Conference, the East still has a lot to offer. Here are my predictions for the eight playoff teams in the East:
All lineups provided by Lineups.com, all player information provided by Basketballreference.com 
1st Seed: Milwaukee Bucks
Projected Starting Lineup: Eric Bledsoe, Wesley Matthews, Khris Middleton, Giannis Antetokounmpo, Brook Lopez 
Always a top-seeded team, the Bucks are led by Giannis Antetokounmpo, last year's regular season MVP. Antetokounmpo, standing at 6'11", with a 7'3″ wingspan, uses his height to drive in to the paint against smaller defenders. They have a team of players who can stretch the floor, which opens up room for Antetokounmpo to drive in and score at will. This tactic has proven to work, as the Bucks finished with a record of 60 wins and 22 losses. Although they lost an important piece of their last year's lineup, Malcolm Brogdon, they have replaced Brogdon with Wesley Matthews, a 6'5″ shooting guard from the Indiana Pacers. Matthews is less skilled than Brogdon, but the drop shouldn't be very lethal to the team's success.
2nd Seed: Philadelphia 76ers
Projected Starting Lineup: Ben Simmons, Josh Richardson, Tobias Harris, Al Horford, Joel Embiid
A team with an extremely deep lineup, consisting of great sound players and veterans, the 76ers haven't disappointed in the past couple of years. With the additions of Josh Richardson and Al Horford, it seems that the 76ers made up for losing players JJ Reddick and Jimmy Butler. Richardson, a small forward/shooting guard with a great offensive skillset, seems like he can take over the absence of JJ Reddick. Al Horford, a veteran center who has played very solid for his career, will most likely play alongside Joel Embiid in the post.
3rd Seed: Boston Celtics
Projected Starting Lineup: Kemba Walker, Jaylen Brown, Gordon Hayward, Jayson Tatum, Enes Kanter
With many struggles in the past, the Celtics needed some changes. Some believe that the loss of superstar point guard Kyrie Irving will be a great detriment to the teams success, although I believe that it was the right move. The Celtics previously finished with a record of 49-33, and it seemed like the Celtics needed a change. With a very complicated, young, talented lineup, Kemba Walker, NBA All-Star and the new point guard for the Celtics, hopes to change things around. With Walker not making the playoffs for many of his years with the Charlotte Hornets, it will be interesting to see how Walker will control this team.
4th Seed: Detroit Pistons
Projected Starting Lineup: Reggie Jackson, Bruce Brown Jr., Tony Snell, Blake Griffin, Andre Drummond
This will come as a surprise to many, but there are a lot of reasons why the Pistons look like they can shake things up this season. Ever since getting power forward Blake Griffin, the Pistons have seemed like they could make a difference in the playoffs. But that hasn't happened quite yet. With the addition of Derrick Rose, and the improvements in Blake Griffin's 3-point shot, I can see this team even moving to the 3rd seed if they play their cards correctly.
5th Seed: Brooklyn Nets
Projected Starting Lineup: Kyrie Irving, Caris LeVert, Taurean Prince, Rodions Kurucs, DeAndre Jordan
Again, this could be surprising to many that the Nets are not ranked higher. But there is a reason: the absence of Kevin Durant. With superstar point guard Kyrie Irving and rebounding-machine DeAndre Jordan now signed to the Nets, this team has a lot of potential. The reason I believe this team will not make a higher seed is because of the chemistry. For some teams, chemistry can take years to build, and I believe that with completely new lineups and teammates for most of the Nets' players, it will take at least half a season to fully adjust.
6th Seed: Indiana Pacers
Projected Starting Lineup: Malcolm Brogdon, Victor Oladipo, T.J. Warren, Domatas Sabonis, Myles Turner
A solid team with their superstar player Victor Oladipo back on the court for this upcoming season, it seems like the Pacers could make some noise this year. With the addition of Malcolm Brogdon and the improvements of Domantas Sabonis, this team is a very solid, strong team who could be sitting in the playoffs for the next couple of years as well. Although I don't think they will go anywhere far in the playoffs this year, but they have a bright future, and strong chemistry.
7th Seed: Toronto Raptors
Projected Starting Lineup: Kyle Lowry, Norman Powell, OG Anunoby, Pascal Siakam, Marc Gasol
Without superstar small forward Kawhi Leonard on the court for the Raptors this year, many fans have started to lose hope for them. Although Kawhi isn't on the roster heading into the 2019-20 season, the rest of the 2018-19 championship roster remains. With players who have shown that they are capable of stepping up in big moments, and a team that plays together at the highest level, this team is not yet broken. A young team with a lot of talent, I could see the Raptors going far in the playoffs despite a maybe not-so-championship-calliber regular season.
8th Seed: Chicago Bulls
Projected Starting Lineup: Tomas Satoransky, Zach Lavine, Otto Porter Jr., Lauri Markannen, Wendell Carter Jr.
Ever since the injuries of Derrick Rose and the absence of Jimmy Butler, Bulls fans have been waiting for something to happen. With a very young, talented lineup that seems to be working hard this offseason, I believe that this upcoming 2019-20 season could be the breakout year for the Bulls. With star shooting guard Zach Lavine working hard this offseason, the return of previously injured star Lauri Markannen, and the addition of bright-futured rookie Coby White, the Bulls seem like they have all of the weapons to stand their ground this season.
About the Writer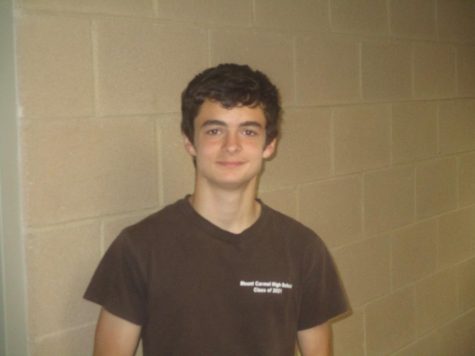 Joseph Williams-Tubay, Staff writer
Joseph Williams-Tubay was born in Chicago, Illinois, and attended Saint Benedict Preparatory School. He now attends Mount Carmel High School as a junior....