NBA Western Conference standings prediction
Recently, I gave my playoff predictions for the NBA Eastern Conference for the 2019-20 season. It only seems reasonable to follow that up with a Western Conference prediction article, as the season got underway this week.
All lineups provided by Lineups.com
1st Seed: Los Angeles Lakers
Projected Starting 5: LeBron James, Avery Bradley, Danny Green, Anthony Davis, JaVale McGee
With a team that actually has a shot at a title this year, LeBron James will most likely return to dominance. After the Cleveland Cavaliers lost in the 2017-18 NBA Finals, I personally didn't expect LeBron to enjoy carrying another team to the finals in back-to-back years. In the 2018-19 NBA regular season, it seemed like LeBron James was finally out of his prime. I don't buy it. With the addition of superstar power forward Anthony Davis and elite sharpshooter Danny Green, you should expect to see another LeBron-dominated year.
2nd Seed: Los Angeles Clippers
Projected Starting 5: Patrick Beverly, Paul George, Kawhi Leonard, JaMychal Green, Ivica Zubac
Right behind the L.A. Lakers, the Clippers could very well take the first seed. With the additions of superstar Paul George and 2x Finals MVP Kawhi Leonard, the Clippers have one of the best defensive teams ever. Patrick Beverly, Leonard and George are all top 20 (at least) defenders in the league right now, making this Clippers team an unstoppable force. This team is already unstoppable, and with off-the-bench stars Montrezl Harrell and Lou Williams, this Clippers team's depth is unmatched.
3rd Seed: Golden State Warriors
Projected Starting 5: Stephen Curry, D'Angelo Russell Alfonzo McKinnie, Draymond Green, Willie Cauley-Stein
Many thought that the departure of Kevin Durant would be the end of the Warriors. Wrong. Stephen Curry, a 2x MVP and 3x Champion, has been one of the best players in the NBA for the past several years. With Klay Thompson injured, the Warriors replaced him (at the moment) with All-Star D'Angelo Russell. The Warriors also fixed a major problem: the lack of power at the center position. By adding Willie Cauley-Stien, a young star with a bright future, the Warriors could do even better than we all think.
4th Seed: Houston Rockets
Projected Starting 5: Russell Westbrook, James Harden, Danuel House, P.J. Tucker, Clint Capela
The Rockets traded their star point guard Chris Paul for superstar Russell Westbrook during the offseason. Although James Harden and Westbrook will be reunited, it is impossible to know how they will work together in the long run, as they are both in their primes. With the explosive nature of Westbrook, and the isolation play style of Harden, this team will be a fun one to watch.
5th Seed: Denver Nuggets
Projected Starting 5: Jamal Murray, Gary Harris, Will Barton, Paul Millsap, Nikola Jokic
The Nuggets have proven that they are the real deal. Taking the Portland Trailblazers to a game seven last year in the NBA playoffs proved that this team has a bright future. With a superstar center who can do it all, Nikola Jokic has finally developed into the leader that the Nuggets have been desperately needing. Mixed with veterans and young stars, the Nuggets have all the tools to go as far as they'd like this upcoming season.
6th Seed: Portland Trailblazers
Projected Starting 5: Damian Lillard, C.J. McCollum, Rodney Hood, Zach Collins, Hassan Whiteside
With the loss of Just Nurkic to a major injury last season, the Blazers have filled in with with Hassan Whiteside, a rebounding and defensive beast. Damian Lillard has proven that he can truly lead a team to the NBA Semi-Finals, as he dominated last year's playoffs. This team seems to be a reflection on last year's team, and will most likely sit between the 4th and 6th seeds, depending on how this season goes.
7th Seed: Utah Jazz
Projected Starting 5: Mike Conley, Donovan Mitchell, Bojan Bogdanovic, Jeff Green, Rudy Gobert
With the great addition of Mike Conley, a star point guard from the Memphis Grizzlies, it seems as though the sky is the limit of this Utah Jazz team. Donovan Mitchell has proven to be a force in today's NBA, as in just his rookie year, he lead the Jazz past the Oklahoma City Thunder, a team with superstars Russell Westbrook and Paul George. Finally, Rudy Gobert is a defensive monster. Winning back-to-back NBA Defensive Player of the Year awards, Gobert as proven to be consistent in his career so far.
8th Seed: Dallas Mavericks
Projected Starting 5: Delon Wright, Luka Doncic, Tim Hardaway Jr., Kristaps Porzingis, Dwight Powell
With the young talent of Luka Doncic, the Rookie of the Year, and the addition of Kristaps Porzingis, the Mavericks look phenomenal. This duo of Doncic and Porzingis has reminded many of the Steve Nash and Dirk Nowtizki duo that the Mavericks once had. Although the Nash and Nowitzki duo never truly worked out, as they only played together for a few seasons, the Doncic and Porzingis duo seems to be a reflection of it. With Porzingis sitting out for the past two years, it will be exciting to see how well this Mavericks team truly is.
About the Writer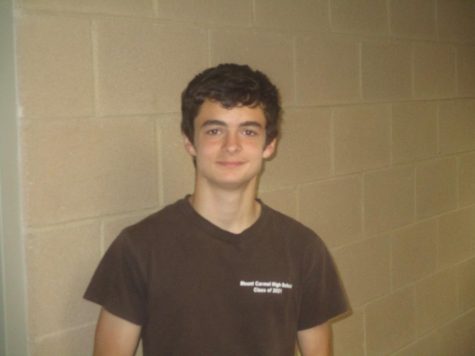 Joseph Williams-Tubay, Staff writer
Joseph Williams-Tubay was born in Chicago, Illinois, and attended Saint Benedict Preparatory School. He now attends Mount Carmel High School as a junior....