Super Tuesday puts Biden in the lead for Democrats

With the presidential election rapidly approaching and Super Tuesday already behind us the race is heating up. On March 3, all eyes were on the Democratic Party  as primary elections took place in 14 states and one US territory. Because more than one third of all delegates are awarded on this one day, it is known as Super Tuesday.  In a surprising turn of events, the previous front runner for the party's nomination, Bernie Sanders, lost the majority of these states to former Vice President Joe Biden.
How did this happen?  In the days leading up to Super Tuesday, three of the remaining seven candidates dropped out of the race. Two of those candidates, Pete Buttigieg and Amy Klobuchar, endorsed Joe Biden as their candidate.  It seems as though these candidates understood the importance of rallying behind one candidate – Joe Biden – and the strategy paid off.
Joe Biden has a much more centrist and capitalist approach in comparison to Sanders' socialist views. In my opinion, I think that because socialism often is associated with communism, it would not work in the United States. I think that the majority of the Democratic party agrees with me and is worried about Sanders representing the party in a national election.
Since Super Tuesday,  both Sen. Elizabeth Warren from Massachusetts and the former mayor of New York City, Michael Bloomberg, have dropped their Presidential bids.  This means that we now officially have a two person race for the Democratic nominee between Bernie Sanders and now Biden.
On the other hand, the Republican Party has not been a genuine primary race because President Donald Trump has not seriously been contested.
In the end, I can say with 100% certainty that an old white man will win the presidential  election in 2020.  The greatest thing you could do for your country at this moment in time is to vote for your favorite of the three men standing. If you are eligible, go vote!
About the Writer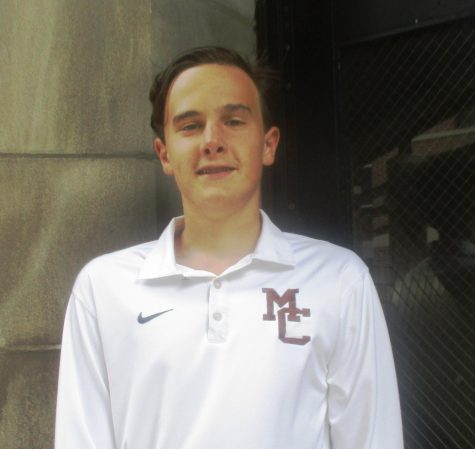 Harrison Moynihan, Staff writer
Harrison Moynihan is a junior at Mount Carmel High School who plays golf and rugby for the Caravan. His favorite subjects are English and physics. He particularly...