Let's bring back the bass fishing team
In today's fast-paced world, less and less time is devoted to slowing down and appreciating the little things in life.
But now more than ever with so many ways to be stressed out, relaxation is very important to overall well-being. One of the best ways to slow down and relax is a pastime that a good chunk of Mt. Carmel students have never experienced, fishing.
Because so many Mt. Carmel students are from the city, there is a large group of students that do not have very much experience with fishing. Many shrug it off as difficult, boring, or even gross. But the true joys of fishing are not just reeling in the catch of the day, but also in relaxing either alone or with fishing buddies. The experience of going fishing with friends is one of the simplest and most fun ways to connect with your friends and to appreciate nature more.
The most common fish that anglers try to catch is the largemouth bass. Both largemouth and smallmouth bass are abundant in the many bodies of water dotted across the state of Illinois. Despite far superior fishing to the north in Wisconsin and Minnesota, Illinois offers a solid compromise between the climate and fishing experience of northern states and southern states, like Oklahoma and Texas. This happy medium offers anglers a variety of fish to target and rural Illinois has some of the best rivers to fish in all of the Midwest. 
These prime fishing spots, along with a general interest in most of the state, prompted the Illinois High School Association to sponsor bass fishing as an IHSA sanctioned sport/activity. The IHSA sponsors tournaments throughout the spring, culminating in sectionals and state in late April. Participation is high, especially in the rural areas of the state. 
The way bass fishing competitions work is that two anglers and one coach go out together on a boat for either two three-hour shifts or one six-hour shift. Both largemouth and smallmouth bass are accepted. The teams fish until they catch five fish, since five is the maximum amount that can be kept and entered into the weighing. They can still catch more fish though, releasing the lightest as they go.
At the end of the allotted time, all of the competing boats return to the launch to weigh in. Special scales are used, and the fish stay in the water as long as possible. The scales used are the bottom of fish tanks, and they are zeroed with the water in before the fish are put in. This method allows for the most accurate weighing without harming the fish. The fish are then all released and the team with the highest total weight wins.
While not many city schools have bass fishing teams, Mount Carmel had one for a while. Unfortunately, it was disbanded in 2010, due to a lack of participation and general interest. However, there are many students at Mt. Carmel now who fish regularly or are at the very least interested in fishing. Many of the students, mostly from the suburbs, have expressed interest in fishing. 
It is easy for one to just go out and fish, all you really need is a rod, reel, and lure. However, many fishermen prefer the mobility and convenience that comes with fishing from a boat. A boat is actually a requirement for IHSA Bass Fishing, another factor that led to the dissolution of the Caravan bass fishing team. Mr. David Milivickas, a Beverly resident and math and guitar teacher at Mount Carmel, was the coach. He does not own a boat but still enjoys fishing. 
"I'd love to," Mr. Milivickas enthusiastically said about possibly restarting the team. "All you need to do is get a boat for us to fish out of. I love to fish, man, and I'd love to have the bass fishing team back at Carmel."
All that's needed is student interest and a boat. Students have already begun to express interest. "I go fishing all the time," sophomore Parker Startz, a Mokena native, said. "It would be nice to fish for MC." Startz also said that he fishes regularly and greatly enjoys all aspects of fishing.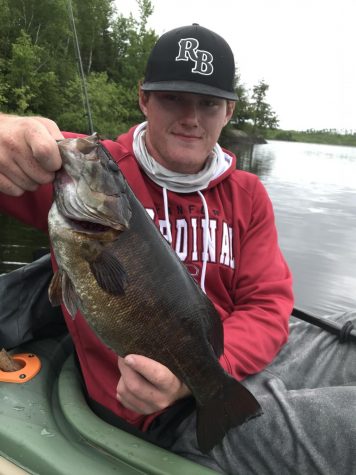 I personally was a member of the bass fishing team at my first high school, Providence Catholic. The bass fishing team at Providence had about ten members, and we wound up qualifying both of our boats to state. There were two coaches at Providence, so we were allowed two boats. We had uniforms for fishing in and we competed in seven different tournaments. The members of the Providence team all had prior experience, so we did not need to practice very often.
It was a great experience, especially since it was low commitment and a great opportunity to relax and fish with classmates. Fishing is also less intense than most other options for competing for your school.
It would be an equally great experience to restart the Mt. Carmel bass fishing team, and I personally would participate2. If needed, I could even provide a boat for the team. (Well, my dad could lend it to us.) Or maybe someone knows one of our super generous MC alumni with willing boat access?
While only two students are necessary to start a team, more would be ideal in the case of absences and scheduling conflicts. The Mount Carmel Bass Fishing Team, while not as storied, decorated, or prestigious as some of the other teams in the Athletic Department, is still an opportunity for Mt. Carmel students to compete and represent their school.