Better late than never: a senior reflection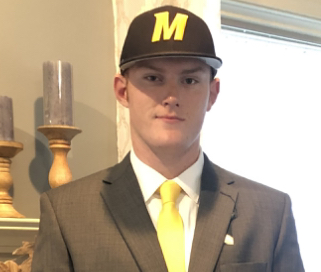 Arriving at Mount Carmel as a junior, I was unsure what it would be like. It was also my first time going to an all-boys school, so I had zero expectations going into my time at Mount Carmel. 
I was very pleasantly surprised by the way that Mount Carmel is. Everyone I talked to was friendly, and the teachers and coaches were helpful and knowledgeable. I felt welcomed from day one, especially since I was on the wrestling and football teams. Being on sports teams definitely helped me find friends right away, but I got to know many other students who were on other teams or none at all. Classes were engaging and often entertaining, and most of the students were respectful. 
The culture that Mount Carmel has cultivated over its extensive history is unlike anywhere else. I was especially aware of this since I was a transfer student. Being exposed to two different high school environments really emphasized the difference between going to school at Mount Carmel for me. 
As cheesy or corny as it sounds, the brotherhood that is cultivated by attending Mount Carmel is really something you cannot get anywhere else. The reason Mount Carmel has seen as much success as it has is evident once I saw the atmosphere around everything Mount Carmel. The success of the athletic culture bleeds into every aspect of the school. A high percentage of students at Mount Carmel are athletes, and there are a lot of both exceptional students and athletes. The ways that Mount Carmel brings the best out of its students is what keeps parents sending their sons to 6410 South Dante year after year. 
While enrollment is down from its peak in the eighties and nineties, it is still quite high for an all-boys Catholic school. However, the smaller class sizes are very nice. In eighth grade, my graduating class was over seven hundred and fifty students, with the public high school I would've gone to having an enrollment of over four thousand. 
Comparatively, Mount Carmel's enrollment is minuscule. This smaller enrollment only helps to build a sense of brotherhood among the students. I also enjoyed the obvious tradition that surrounds all of Mount Carmel. From the teams being named possibly the most unique nickname in the state if not the country, the Caravan, to the old-fashioned slogans plastered around the walls. "You came to Carmel as a boy. If you care to struggle and work at it, you will leave as a man." The ideals of hard work, fighting through adversity, and manhood are the cornerstones of a Mount Carmel education. 
The tradition and culture of the athletic teams are unparalleled as well. I was extremely glad that I decided to play football at Mount Carmel. The coaches and my teammates welcomed me in right away, and I felt like I was part of the team mere days after I officially transferred. 
Coach Lynch, Coach Antonietti, and all of the other coaches were nice to me from day one, and I quickly came to consider my teammates as brothers. The offensive line is one of the tightest knit groups on the football field, and I was definitely closest with my fellow linemen. 
Starting for two years, and being the only non-senior my junior year, I had two completely different groups. In my Junior year, I was with all the guys that had won the state championship the year before I came to Mount Carmel. But despite these guys being so close to each other, they welcomed me into the fold with open arms. I was happy just to have such great guys be the first people I met and became friends with at Mount Carmel. 
I definitely had to take up a different role my senior season, as I was the only returning starter on the offensive line. While I had been in leadership roles before, I had not been in a situation quite like being the center and only senior on the offensive line. I once again could not have asked for a better group, though. All of the new starters, who were all juniors or younger, were eager to get better and learn. 
Taking on a leadership role in football was unique, but in wrestling, it was much more natural. This year, as a captain of the wrestling team, I had some of the best moments of my life. Despite being an individual sport, wrestling still has a team that competes together. Dual meets, traveling to tournaments, and even just practicing with each other make a wrestling team likely the most tight-knit team at any school. 
And the wrestling program at Mount Carmel is special. While everyone looks to the football team as the traditional powerhouse program of Mount Carmel, the wrestling team has been in the national rankings since Alex Tsirtsis took the reins as head coach. Coach Tsirtsis is extremely dedicated to all his wrestlers and helps teach them not only how to wrestle better but to be a better person. He prioritizes family and grades over wrestling and even wants his wrestlers to have a good social life outside of wrestling, and he pushes everyone on the team to be the best they can be. 
As captain, I did not have to do a whole lot since all the guys were so dedicated to the team. The talent, hard work, and dedication of every member of the team, from the state champions to the JV-only guys to the guys who just came to practice and never actually competed–everyone played an instrumental role in getting the team to where it went this year. It all culminated in a team state title, the first since 1994. After coming excruciatingly close in 2020, and not having an IHSA state series in 2021, the Caravan finally took home a state title under Coach Tsirtsis. 
While I personally may have had a tougher match or a more impressive win in winning an individual state title, the team title meant a lot more to me. Getting all the guys a championship was my highest goal in wrestling, and I cared far more about the team's performance than my own. But we got it done, and I will never forget giving the whole team a pep talk in the tunnel before going onto the mat and winning a state title. 
Words cannot describe how much Mount Carmel has grown to mean to me in the last two years. Coming here my Junior year was one of the best decisions of my life. I feel like Mount Carmel has changed me, and I hope I have worked hard enough and struggled enough to leave a man.