Edwin Curtin '07, Rev. Aquinas Colgan O'Carm, John E. Byrnes '29, Thomas A. Callaghan '29, Joseph K. Kane '30, Harry B. Gallagher '31, Michael D. Cleary '32, William J. Desmond '34, William C. Fox '34, William N. Maher '34, Francis X. Clarke '35, Hamilton F. Morris '35, John E. Walsh '35, Angelo DeMarco '36, George E. Kenneley '37, Walter I. Koness '37, John McKenna '37, George F. Miller '37, Philip B. O'Connell '37, John J. Stack '37, George M. Bracken '38, William J. Hansen '38, Richard J. Houston '38, George E. Kloss '38, Martin G. O'Reilly '38, Thomas J. Ryan '38, Thomas E. Barrett '39, Philip P. Carey '39, Donald J. Lister '39, Edward T. McGuire '39, Martin A. Mongeau '39, R. Paulsen '39, Robert E. Ries '39, John T. Barry '40, Raymond E. Connors '40, Thomas E. Creevy '40, James J. Duffin '40, Arthur P. Kells '40, Nuccio J. Michelazzo '40, John J. Regan '40, James D. Reiners '40, Harry W. Watson '40, Frank P. Buckley '41, Raymond G. Burke '41, William H. O'Brien '41, William B. Walsh '41, Elmer F. Wang '41, Thomas J. Clark '42, John E. Drury '42, Michel E. Kelly '42, F. G. Macina '42, Mariano A. Mascolino '42, Thomas G. Burke '43, Robert E. Claffy '43, John J. Marley '43, John B. Abt '44, William G. Lucia '44, D.R. Weldon'44, Robert A. Otton '45, Peter Golden '43, James Doyle '47, James Ford '47, John McKay '49, Patrick O'Brien '51, Charles Tighe '48, Charles P. Claxton '51, Al Schroeder '60, James A. Gazze '62, Lester Kersten '62, Richard A. Maul '63, Gerald C. Miller '63, Thomas E. Bromley '65, James T. Clair '65, Thomas C. Connolly '65, Don Mate '65, Patrick J. Sweeney '65, Dan Miller '66, Lawrence Dunlap '67, Paul Gerald Guimond '67, Joseph Hernandez '03.
Many Mount Carmel students will pass by those names on the memorial for veterans on the second floor of the McCarthy Wing everyday without truly knowing who those people are and why it's there.
The annual Veterans Day assembly that was held on Friday, November 10, is not just an opportunity to thank those who attended MC and later served, but is also an opportunity to teach the current students about those who did not make it back. It is a great thing that alumni veterans are recognized and given thanks at MC every year during the Veterans Day gathering.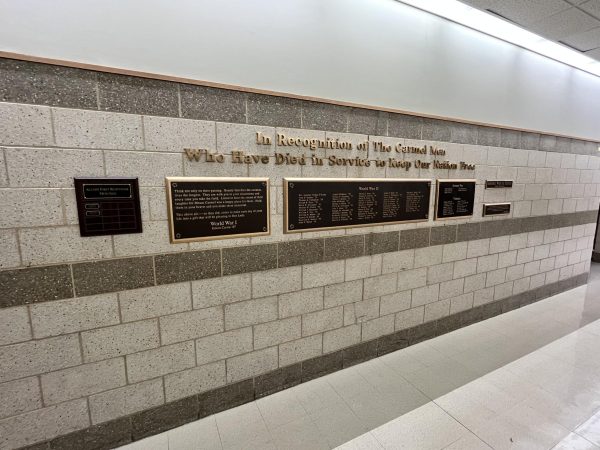 Mount Carmel has had a tremendous history of veterans who have walked its halls from Edwin Curtin, a 1907 grad who served in World War I, to Joseph Hernandez, a 2003 grad who died during the war in Afghanistan. In total there are eighty names on the memorial, and they will never be forgotten. At the Veterans Day assembly all of their names are read allowed, and they are recognized for their service.
Story continues below advertisement
It's important to hold the Veterans Day assembly every year not only because of the living veterans but also those who have passed away. Brian Schiller '87 explained the POW/MIA table, which represents what the family members of veterans feel when their loved ones are unable to make it home to eat with their family. The table features symbolic items , such as the single red rose on the table. "The single red rose signifies the blood that many have shed in sacrifice to ensure the freedom of our beloved United States," said Schiller.
Vice principal Mr. Bill Nolan '87 spoke in particular of MC grad Ed McGuire who was a pilot in World War 2.
"Fifty three planes went down, including Ed McGuire's," said Mr. Nolan. "He could never be identified."
McGuire's mother often sent letters to the government asking about his remains. "She and her husband had a spot left next to their gravestones for Edward when he came home," said Mr. Nolan. Genetic testing allowed for Ed McGuire to finally be identified in 2017, and he was laid to rest last month in Evergreen Park.
It's important to remember the stories of great veterans like Ed McGuire because many people who served were never able to make it back home.
Many students at MC have parents or family who are involved in the military, and the Veterans Day ceremony is an important event for them to honor both their family members and MC brothers. "I think it's a great opportunity to show students that there are people here who have done amazing things with their lives," said junior Leonard Siegal, whose parents both served in the Army. "Those who helped serve everyone really." Siegal also said it was important that students know that these are people who walked the halls of 6410 and that they are people who are extremely admirable and are great role models for the men of Carmel.
"I think the culture of Mount Carmel is very similar to the army," said Siegal. "The idea of hard work, respect, and dedication."
The Veterans Day ceremony is important to the veterans themselves. They have undergone immense hardships to protect the freedom of the United States. "Protecting the freedom of this country is a nasty mean spirited business," said Dennis Benard '65, a veteran of the Vietnam War. The ability to sign one's life away, a willing acceptance of death if it is for a greater cause is something that should be admired.
The Veterans Day ceremony does just that.