Theology teacher moonlights as radio DJ
Hang on for a minute...we're trying to find some more stories you might like.
Mr. Dominic Scheuring is a regular volunteer guest host and DJ on his brother Kyle's radio show called "Keeping it Together." The radio show airs on 88.7 FM on Sundays from six to seven p.m. The radio show is through the Loyola University Chicago radio program.
"Keeping it Together" is a freeform radio show. Free format means they can play whatever music they want, which is exactly what Scheuring does. Most of the music played is soul, R&B, funk and some hip-hop, but the genre isn't set. Basically, Scheuring can bring in whatever music he wants. His brother, in addition to spinning records, does some of the commercials on the show as well as public service announcements.
Scheuring enjoys his Sunday nights moonlighting as a DJ because he liked music growing up. He learned how to play guitar at seven, but in high school got bored with that instrument so he picked up drums and piano.
He also played in many garage bands when he was growing up. But, once he got to college at the University of San Francisco, he stopped playing instruments because he couldn't bring his drums to campus.
At USF Scheuring joined the college radio station, KUSF.  Later, when he was pursuing his master's degree in Boston, he did shows for about a year and a half at WZBC, which is owned by Boston College.
In addition to his Sunday night sideline as a radio DJ, Scheuring has been a DJ at many parties and even used to have a residency at a bar in San Francisco. At the bar, he would DJ every other Thursday for about a year. Most recently Scheuring was the DJ at one of his brother's roommate's birthday party.
If you ever get bored in Mr. Scheuring's theology class and need a break, bring up music and DJ-ing.  You should be able to get out of a few minutes of class.

About the Contributor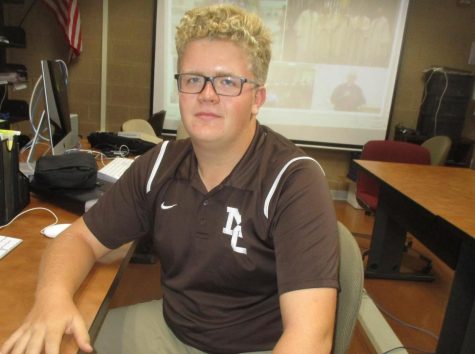 Nick Gulotta, Staff Writer
Nick Gulotta is a junior at Mount Carmel High School in Chicago, Illinois. Gulotta grew up in Lansing, where he attended Memorial Junior High School. Gulotta...