A dedicated man: Father Leopold Glueckert
This year there are two Carmelite priests, Father Leopold Glueckert and Fr. Jim Lewis, who are part of the Mount Carmel community.  In addition, there is a Carmelite intern, Brother Neil Conlisk, who has been with us for the past two years as a theology teacher while continuing to prepare for his life of ministry.
Fr. Leopold and Br. Conlisk, along with three other Carmelites, reside in the Carmelite Priory located just east of the school.   Fr. Jim, one of our school's counselors, lives off campus.
Father Leopold spends part of his day in Mount Carmel's Advancement Office, helping with various writing projects. He also presides at Mass and at the sacraments, such as hearing confessions for students during Lent.  There are many ways that he contributes to the MC community, but he also frequently travels around the world to various Carmelite communities giving retreats and consulting n various topics.
Growing up Father Leopold felt called to be a priest, and he always wanted to become a Carmelite. During his journey to becoming a priest, he felt blessed to have "had (my) parents support every step of the way." He remembers that it was a positive thing to trust that his family was behind him no matter what he chose to do.
For high school, Fr. Leopold attended the Carmelite seminary in Niagara Falls, Canada.  There, he lived in a priory with other young men who shared his interest in the priesthood. He recalls that those years were "a difficult challenge." Although the students knew they were free to leave whenever they wanted,  and many did drop out over their years of study, he stayed strong and went through the process and met many wonderful people along the way.
In my opinion, Fr. Leopold is an individual of great dedication.  By choosing the priesthood at a young age, he made a choice that few others are willing to make, and the Carmelites and Mount Carmel have benefitted from his generosity.
About the Writer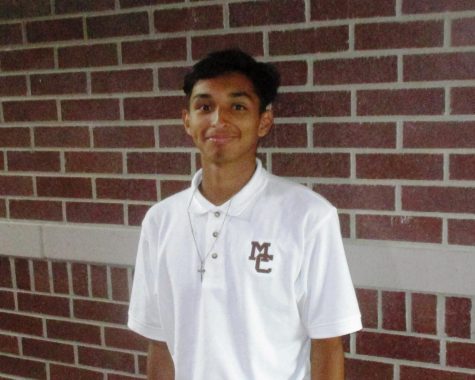 Marcos Cid, Staff Writer
Marcos Cid attends Mount Carmel High School and plays soccer. He is 16 years old and a few of his goals are to be a good student and to be the best student-athlete...