Kendrick Cooper designs his future
The Class of 2020 produced many great Men of Carmel, and among those men is Kendrick Cooper.
Cooper currently attends Texas Christian University, where he is pursuing a degree in graphic design, an interest that goes back to Cooper's senior year, when he started his own clothing business under the brand name "Fated Angels." 
"I wanted to start making money of my own and I enjoyed the design aspects that came along with it."
 The brand name "Fated Angels" coincides with Cooper's design of a white demon wing, connected to a torn-up heart, and a blackened angel wing.  Cooper explains, "My line Fated Angels deals with deception, and how you look at different things in a new light. Meaning everything is not what they seem to be when you see it." 
He started marketing his brand while attending Mount Carmel High School, so moving away for college added a couple of challenges into the distribution of his product. 
"In a way going away to college has challenged me a bit, as I had to get my name out there on campus. I recently finished a photo shoot down here on campus and it turned out very good."
Cooper wants to expand his brand to become as well known as household names like Nike, Adidas and Champion.
"I'm aspiring to make this brand something that can compete in the big leagues. I would eventually get my own store and sell my work from it."
It's pretty cool that someone as young as Cooper should already be finding success as a young entrepreneur.
About the Writer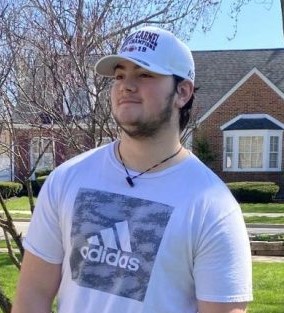 Joseph Asta, Staff writer
Joseph Christopher Asta is a senior currently attending Mount Carmel High School. At 17 years old, His current goals are to be accepted into a university...