Dan O'Keefe '14, North Central claim NCAA XC championship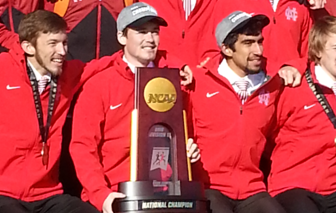 Recent graduate Dan O'Keefe '14, the former captain of Mount Carmel's cross country team, achieved notoriety recently as a member of North Central College's Division 3 Outdoor Champions.  In the 2016 NCAA finals in Louisville, Kentucky, O'Keefe finished 48th and had a personal record (PR) of 25:05 during the championship race.
North Central College, located in Naperville, Illinois, has won 16 Division III titles.  In cross country you want to score the least number of points possible. First place runners get one point, second place two and so on. NCC's score of 60 points was 144 points less than the second place team, State University of New York at Geneseo.
According to the NCC student newspaper website NCClinked.com, O'Keefe was excited with the crushing victory but more happy at the effort from the team as a whole.
"I'd just say that what happened today, win or lose, was a culmination of so much hard work by so many people that it was going to be a positive experience no matter what."  (Read the full article at goo.gl/6mlhSo)
O'Keefe's work ethic began long before college.
"Dan was one of the most – if not the most – dedicated runners I've coached in my time at Mount Carmel. His work ethic was second to none" said Mr. Dan Burke, head cross country coach at MC. "In addition, he simply loved the sport, and that enthusiasm was infectious for his teammates. He was a true leader for the team.
One of O'Keefe's former teammates echoed Burke's praise.
"He is a really great guy and an even better runner,"  recalled Jacob Correa '17, who was a freshman on the team when O'Keefe was a senior.
O'Keefe, a Downers Grove native, also has achieved academic success at North Central, where he earned Academic All-CCIW honors.
Burke wasn't surprised.
"I wouldn't expect anything less from Dan. I'm proud to have coached him and very happy for him and his teammates at North Central."