Caravan finishes season with a win
Advertisement
Hang on for a minute...we're trying to find some more stories you might like.
Last Friday night, the Caravan (6-3, 2-2) took on the Celtics of Providence Catholic (5-4, 2-2) at Gately Stadium. The Caravan started the game with the ball and scored within the first three minutes of the game. Both sides kept at it for the first half until the Celtics added two more scores after two Caravan fumbles. The first half score was 27-14, Providence Catholic.
At halftime, Coach Frank Lenti simply told his players, "Don't give up." The players took action by causing turnovers and scoring. Senior Aristotle Nakos rushed for four touchdowns in the game, including the one that gave Mount Carmel the 35-34 lead with 3:56 left in the third quarter.
"I give credit to the offensive line, they kept pushing and pushing, it was a great win today," Nakos stated. Providence went into the fourth quarter desperate to score. They drove the ball all the way to the Caravan's three yard line. Then they fumbled the ball and it was recovered by junior Matt Lenti. It was all Caravan after that.
"We're Mount Carmel, we never give up," quoted senior Alek Thomas. Next week, the Caravan continues their season in the IHSA state playoffs against Moline High School in Moline, Illinois, on Saturday at 4 pm.

About the Writer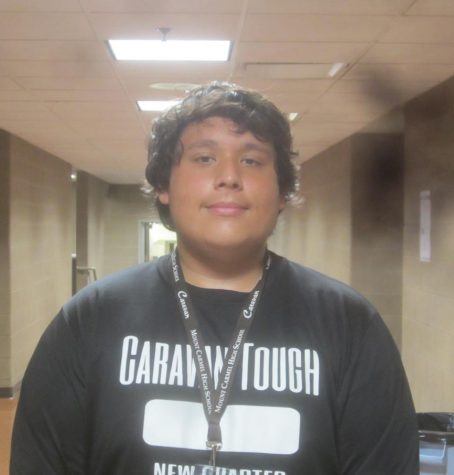 Rogel Gutierrez, Staff Writer
Rogel Gutierrez, a senior at Mount Carmel High School, was born and raised in East Chicago, Indiana. In the East Chicago playgrounds, he enjoyed playing baseball, basketball, football, and all sorts of games with his neighborhood friends. He attended St. John the Baptist in Whiting, Indiana. Gutierrez is an offensive and defensive tackle for the football team in the fall and he intends to join the rugby team for the first time in the spring. He enjoys watching  ESPN in the mornings and especially First Take. He hopes to pursue a career in journalism at a very diverse university. Outside of school, Rogel typically spends a lot of his time with his family at home, especially with his baby sister. Overall, Rogel hopes to pursue sports journalism as well as playing college football. But as of now, Rogel wants to enjoy his final year of high school.