An Eventful Signing Day
Hang on for a minute...we're trying to find some more stories you might like.
It isn't often when 10 Mount Carmel athletes sit around a table with smiles from ear to ear. It also isn't often that National Signing Day comes around, but when it does, Mount Carmel takes full advantage. In a room full of about 40 people, 10 talented athletes put their signatures on paper to commit to play sports in college. These ten athletes signed to play baseball, wrestle and dive. Football and baseball star Alek Thomas expressed his excitement before he signed to play at Texas Christian University.
It's all smiles and photographs on the outside, but these athletes are constantly sore and tired, grinding every day with the hope of getting better. Mount Carmel's first ever competitive diver, Eric Correa, signed to commit to University of Arizona. He described his work outside of school as "never ending, and a break is never taken." Also, baseball prodigies Christian Lucio and Diego Muñoz both explained how much work they've put in to be where they are now.
Former state runner-up wrestler Kendall Coleman told a story about how his best memory wrestling for Mount Carmel was seeing his coach, Alex Tsirtsis, doing a "goofy" dance before one of his matches. Most shared stories relating to their successes on and off the field. It was an eventful day, and surely a happy one.
Congratulations to these student-athletes.

About the Writer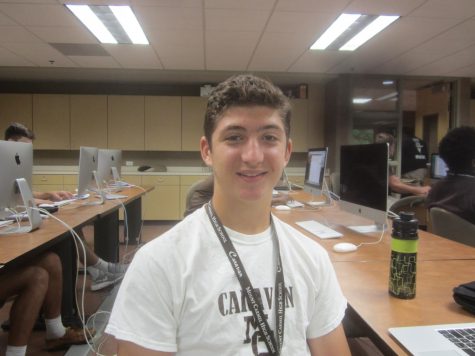 Alek Fedyk, Staff Writter
Alek Fedyk from Hinsdale, Illinois, is a Mount Carmel senior who has a strong passion for telling stories with media, specifically video. Alek played hockey...