Caravan fall short in home opener
Hang on for a minute...we're trying to find some more stories you might like.
After a promising start to the Caravan's season, the varsity football team dropped a close game to Maine South 21-13. The game started off promising for the Caravan with a touchdown pass from Radomir Premovic ('19) to Anthony Livermore ('20). This was Livermore's first of two touchdowns on the night. The second touchdown being a 95 yard kick off return. Unfortunately, the Caravan muffed the snap on the extra point.
The game was quickly brought to a hault in the first quarter when lightning and rain moved in, causing a one hour and 40 minute game delay.
When the game resumed, it was more of the same, great defense by both teams. The Caravan were trailing 14-13 with little time to breathe in the fourth quarter, when a Maine South defender had an incredible interception that was returned to the end zone for a 21-13 lead. Premovic had one more chance to lead the team down the field for the tie, but the drive fell short of the goal line.
By the time the game ended, it was 11:22 PM
On a better note, both the sophomore team and the freshman team won their battles against Maine South. The freshmen won in dominating fashion with a 20-7 game. On the other hand, the sophomores squeaked by with a three point victory 29-26.
The Caravan hope to bounce back with a win next week in the big rivalry against Loyola Academy. The game will take place at Loyola this Saturday at 1:30.

About the Writer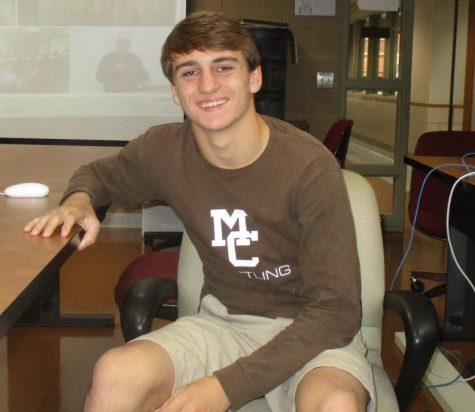 Miles Hoey, Staff Writer
Miles Hoey, a senior at Mount Carmel, is a varsity wrestler who lives on the South Side of Chicago in Beverly. Hoey would love to pursue his dreams of...