MC bowlers do some holiday "baking"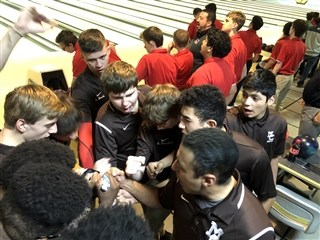 Advertisement
Hang on for a minute...we're trying to find some more stories you might like.
Mount Carmel's bowling teams headed to Addison, Illinois, for a North/South meet on Saturday, December 15.
The JV had an outstanding meet, winning all nine points against St. Ignatius. However, the varsity experienced just the opposite result, losing all nine points against Notre Dame.
After lunch, each CCL team had to bowl 13 "baker games" against every team from the North and South division. participating teams included Providence, Brother Rice, St. Rita, De la Salle, Marist, Leo, St. Lawrence, Notre Dame (again), St. Ignatius, Fenwick, Depaul Prep, Loyola, and St. Patrick.
A "baker game" is made up of five members of one team combined to play a single game (of 10 frames) against five members of the opposing team. Each member of the team bowls two frames. Typically, the lineup requires the first bowler to take the 1st and 6th frames, the second bowler rolls frames two and seven, the third rolls frames three and eight, the fourth takes frames four and nine, and the final bowler handles frames five and ten.
This year's varsity team includes four seniors (Hayden Shimla '19, Ameen Morgan '19, Matthew Martinez '19, Christopher Davy '19), one junior (Derrion Drake-Ford '20), and one sophomore (Kolton Hall '20).
Overall, it was a great day for the JV team, winning 20 out of 22 possible points. Varsity did alright, winning 9 out of 22 points.
The team's next match will be the "Brother Rice Final Fling Invitational" on December 27 at Arena Lanes in Oak Lawn.
About the Writer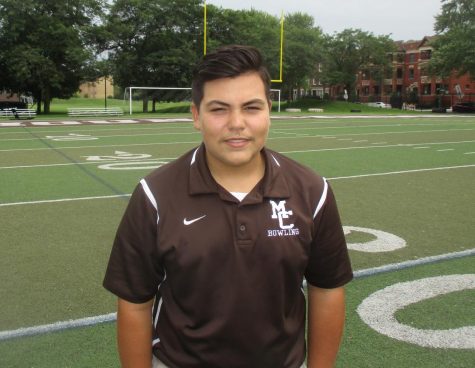 Matthew Martinez, Staff Writer
Matthew Martinez, born in Chicago, goes to Mount Carmel High School on the South Side of Chicago. He went to grade school at St. John the Baptist in Whiting,...