NBA players show off at skills competitions
Advertisement
Hang on for a minute...we're trying to find some more stories you might like.
The NBA All-Star Weekend let us see NBA stars show off their special skillsets in three different competitions:  the All-Star Skills Competition, the dunk contest, and the 3-point Challenge.
The All-Star Skills Competitions consisted of dribbling, passing, and shooting.  Participants included Jason Tatum, Mike Conley, Trae Young, Luka Doncic, Kyle Kuzma, De'Aaron Fox, Nikola Jokic, Nikola Vucevic.
First, the big men, Nikola Jokic and Nikola Vucevic squared off, with Nikola Jokic winning with his great three-point shooting. Next, sophomore year player Jason Tatum and veteran Mike Conley faced off, but Mike Conley couldn't match Tatum's three-point shooting ability. Another sophomore year player, De'Aaron Fox, faced off against Rookie Trae Young, who currently leads rookies in assists. Trae Young was losing toward the end of the round, so he shot a deep three instead, and made it, to beat Fox. In another set of sophomore vs. rookie match-up, Kyle Kuzma and rookie sensation Luka Doncic were a great match-up.  It all came down to three-point shooting, but Doncic beat Kuzma with his superior shooting skills.
The second round came along with Jovic and Tatum facing each other, a center versus a small forward.  Many thought it was going to be an easy win for Tatum, but Jovic gave him a good match, and was winning up to the three-point shot. But then Tatum, with his exceptional three point shooting, pulled up with his first shot and swished it.
The rookies matched up in the second round with Trae Young and Luka Doncic, but Young's speed killed Doncic and he hit his three on his first shot.
Trae Young's speed in the championship round against Jason Tatum gave him an early lead.  Considering how far behind he was from Young, Tatum shot a half-court shot instead of a regular three, and banked it in to win the Skills Competition.
Miles Bridges, John Collins, Dennis Smith Jr., and Hamidou Diallo were participants of the 2019 Dunk Contest. Oklahoma City Thunder rookie, Hamidou Diallo outdunked Dennis Smith Jr. of the New York Knicks. Diallo was the most consistent dunker of the competition. His second dunk in the first round earned him a 50, the highest score possible, jumping over seven-foot Hall of Famer Shaquille O'Neal. After jumping over O'Neal, Diallo stuck his elbow through the rim, a nod to Vince Carter's dunk back in the dunk contest in 2000. Diallo then opened up his Thunder jersey and revealed the logo of superman. He finished off the contest with two great dunks.
Devin Booker, Seth and Steph Curry, Danny Green, Joe Harris, Buddy Hield, Damian Lillard, Khris Middleton, Kemba Walker, and veteran Dirk Nowitzki were all participants in this year's Mountain Dew 3-point contest. Even though Steph Curry, the 2015 champion, was in his hometown of Charlotte, he lost to Joe Harris from the Brooklyn Nets.
About the Contributors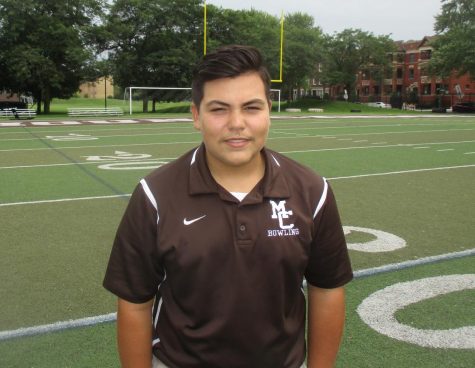 Matthew Martinez, Staff Writer
Matthew Martinez, born in Chicago, goes to Mount Carmel High School on the South Side of Chicago. He went to grade school at St. John the Baptist in Whiting,...