That championship feeling
Hang on for a minute...we're trying to find some more stories you might like.
The Catholic League tennis playoffs were held on Friday, May 10.
I knew I wasn't going to win, because I was playing singles three, which means pretty much that  was the third best player on the team. This was just my second year playing tennis, and I did improve a lot over last season, but I knew other players were better.
Going into the first match, I asked my opponent from Marmion how long he had been playing, and he replied "around six years."
Immediately, I was nervous because I figured he was better.
Nevertheless, during the first set I played really well; my serves and returns were on point, and I won the set 6-3.  I was off to a good start.
But it was the second game was where things got interesting.
My opponent started to get upset and picked up his play, and I lost the first game 2-6. Going into sudden death set, I was resigned to the outcome, because it was clear he had all the momentum. As I expected, I dropped that set 3-10.
Still, I wasn't that upset because I knew I had give my best against a really good opponent.   I then fell into the consolation (loser's) bracket. The second match, I took advantage of his weaknesses and beat him 8-1.
The third match, I knew was going to be a bit more difficult than the second match, he was a lot better. When my serves got down, he couldn't even touch them. The De La Salle player was a worthy adversary. I ended up on top with a win of 8-3.
After the match, we had to tell the scorers our scores, and the woman said, "Okay, Mount Carmel advances to he consolation championship."  I was like, "holy cow, I better win this."
The consolation championship match was very difficult, but I had faced and beaten my opponent from Providence before, so I knew all of his moves. I was confident I could beat him again.
This time, though, he was a lot better. The match started off with volleys back and forth, back and forth, and soon the score was 2-2.  Then, inexplicably, I started doing terrible, and lost the next three points to make it 2-5.
I got very upset, but I channeled my emotions into better play, and soon my serves and turns were too good for him. I won the next three points to tie the score at 5-5.  Then, I messed up on two of my returns to make the score 5-6 in his favor.
I knew that if I "loved" the next set I would have lost because he would have been up two with one more set to win. I told myself that I had beaten this kid before; I could do it again. I just had to get into his head, knowing that every time he lost a point he would get more mad.
I won the next two to make the score 7-6. I needed just one more game to win.
During that next game, the score was tied. I needed one more point to win the championship. He served the ball; I returned it; we went back and forth, back and forth. Then, annoyed, I hit the ball in the corner of the court where I knew he wasn't going to get it. He ran, slipped and fell, and I won.
I was so happy that I jumped up in the air and yelled "Let's go."
I didn't get a medal or plaque, but the experience was great. I was tired from playing those five hours of tennis, my legs were finished, but it didn't matter.  I had won, and it felt great.

About the Writer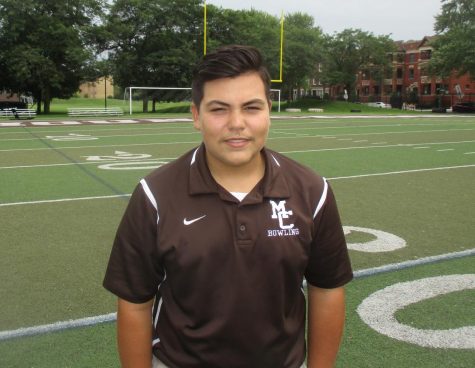 Matthew Martinez, Staff Writer
Matthew Martinez, born in Chicago, goes to Mount Carmel High School on the South Side of Chicago. He went to grade school at St. John the Baptist in Whiting,...