Lunch table debate: NBA playoffs
Advertisement
Overheard at lunch:
Trent : "The Raptors are going to lose to the Bucks."
Nick:  "No way. Kawhi Leonard is the best defensive player in the league. Giannis won't be able to score on him."
Trent: "Giannis is not their only scorer. They have other players like Eric Bledsoe and Pau Gasol to score for them."
Nick: "Yes they do have others scorer – but Kyle Lowry is a big factor for the Raptors."
Trent: "Well, I guess we will just have to watch the series and see what happens."
Back in the Journalism classroom following Game 4:
Trent: "Well, I wasn't really ready for that 18 point blow out."
Nick: "I told you the Raptors would be able to expose the Bucks' weaknesses."
Trent: "Doesn't matter.  Their best player was limited to 19 points."
Nick: "Trust me.  You will see in game 5."
In the hallway the morning after Game 5:
Trent: "There is no way they lost again.  The NBA has to be rigged.
Nick: "It isn't rigged. Kawhi and the Raptors have everything a successful team needs."
Trent:  "So do the Bucks.  This is just insane; there's no way they lose again in game 6."
Back at the lunch table after Game 6:
Nick: "I told you the Bucks stood no chance against the Kawhi and the Raptors."
Trent: "Well, I can't really say much more than that Bucks tried their best."
Nick: "I'll admit the Bucks are most likely the team of the future. They have everything a young team needs."
Trent: "Yeah I guess you're right.  Now all I can do is watch the rest of the playoffs realizing that you were right at the end of the day."
Nick: "Although the Warriors are a dynasty, I think the Raptors have everything they need to challenge them in finals. After all, the Raptors are 2-0 against the Warriors this season."
To be continued . . .
About the Writer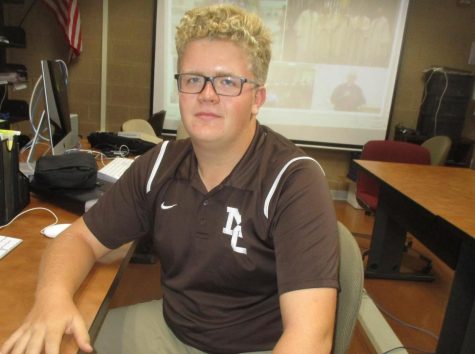 Nick Gulotta, Staff Writer
Nick Gulotta is a junior at Mount Carmel High School in Chicago, Illinois. Gulotta grew up in Lansing, where he attended Memorial Junior High School. Gulotta...