Who is the greatest NBA scorer of all-time?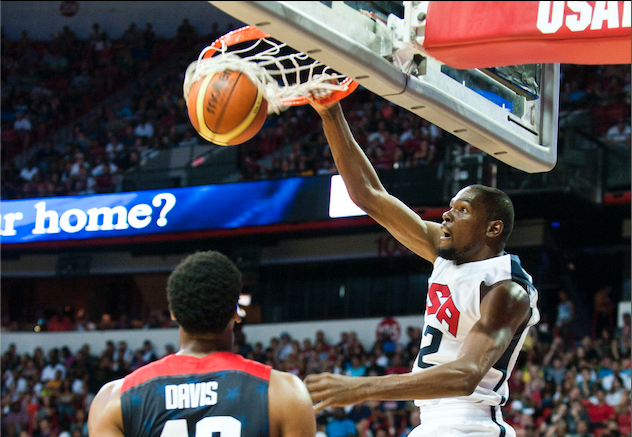 For many years, NBA fans have debated the same question: who is the greatest scorer in NBA history?
To be clear:  being the "greatest scorer" doesn't mean you have the most points. Many things need to be taken into account to determine who is truly the greatest scorer ever: competition, the variety of scoring options, the impact, and the ability to truly takeover a game.
To figure out who is the greatest, we must consider many players from NBA history. These include: Kareem Abdul-Jabbar, Karl Malone, Kobe Bryant, Michael Jordan, LeBron James, Stephen Curry, Kevin Durant, Wilt Chamberlain, Shaquille O'Neal, Allen Iverson and Carmelo Anthony.
Players with potential to be in the discussion soon include: James Harden, Anthony Davis, Giannis Antetokounmpo, and Kyrie Irving.
Kareem Abdul-Jabbar, the holder for the most points in NBA history with 38,387, leads the second highest scorer, Karl Malone, by 1,459 points. Abdul-Jabbar's iconic "skyhook" gave him the ability to rise over defenders with a stretched out arm, while deflecting the defender with his opposite arm.
Abdul-Jabbar's biggest rival was Wilt Chamberlain, the holder for the most points in a single game with 100. Although Kareem Abdul-Jabbar, Karl Malone, Shaquille O'Neal and Wilt Chamberlain all were able to score at will in their respective eras, they were all centers who had no need for a 3-point shot in an era focused on big men. This limited their abilities to score in different ways, which makes it harder to imagine how well they'd hold up in today's league, which is focused on three-pointers.
This leads us to the following players: Kobe Bryant, Michael Jordan, LeBron James, Stephen Curry, Kevin Durant, Allen Iverson, and Carmelo Anthony.
In-game rivals LeBron James and Carmelo Anthony shared similar play styles, as they are both small forwards. While James focused on driving in and using his athleticism to score, Anthony used his ball fakes to open up mid-range and three-point shots. Although both of these players have always averaged around 20+ points per game for their careers (not including Anthony's 2018-19 season, as he only played 10 games), their range of playing styles don't match with some of the others on this list.
Michael Jordan, an extremely incredible scorer for his career, had just a few flaws. Taking only 1.7 three-pointers a game, he was limited to mostly two-pointers. Never a back-to-the-basket type player, Jordan exceeded at fade-away shots or contested mid-range shots.
In contrast, a player who primarily dominates from the three-point line is Stephen Curry. Third on the NBA All-Time three-point made list, Curry can also shoot from about anywhere else on the floor. The only flaw holding him back from being the greatest scorer in NBA history is his height. Standing at 6'3," it can be very difficult at times for Curry to create shots over taller defenders, especially in an era of tall point guards.
Allen Iverson, a 6'0" shooting guard, proved that height doesn't always affect scoring totals. In a big man era, Iverson used a flashy, unique play style that allowed him to blow by defenders. Although he wasn't the most efficient three-point shooter, he did have phenomenal seasons, including his highest scoring season of 31.4 points per game. He had a variety of scoring abilities, but was only able to lead his team to one NBA Finals appearance, where he was shut down by the Shaq & Kobe era Lakers.
This leaves us with two NBA Superstars: Kevin Durant and Kobe Bryant. These are typically the two players who are left in arguments about the greatest scorer ever. Although it is truly nearly impossible to determine who is the better scorer (because the primes of their careers were at much different times), there are facts that can provide a statistical viewpoint of who is the greater scorer.
Kobe Bryant, NBA Superstar, 1x MVP, and 5x champion, is considered to be the greatest scorer in history. In a tougher defensive era of basketball, Kobe Bryant, on January 22, 2006, was able to score an insane 81 points on 61% shooting against a Toronto Raptors team with future Hall Of Famer Chris Bosh and notable player Jalen Rose. But this wasn't his only amazing scoring performance. Bryant averaged 35.4 points per game in the 2005-06 NBA regular season. Bryant scored 27 game-winning baskets in his career, and has a career point total of 33,643. He was able to score from practically anywhere on the floor, and could do that with one, or multiple defenders guarding him.
A more unique talent, Kevin Durant, standing at 6'9", and weighing in at 240 pounds, has a very slim build with a very lengthy body. The 1x MVP, 2x league champion, and 4x scoring champion, Durant has cemented himself as one of, if not the greatest scorer in NBA history. Durant's highest scoring game came against the Golden State Warriors on January 17, 2014, where he scored 54 points. Durant has the biggest variety of scoring options in NBA history: He can shoot three-pointers, two-pointers, fade-away shots, can drive to the rim with ease, can dunk over defenders, and can score contested circus-shot layups.
Although Kevin Durant has the biggest variety of scoring options in NBA history, Kobe Bryant seems to be the better takeover player who can win a game single-handedly. Although Durant takes over games at a high level as well, it is a much different situation. With Durant's height separating him from the smaller small-forwards, it is much easier for Durant to shoot over defenders. Bryant's ability to shoot over players the same size, or taller than him makes him incredible.
Although in my opinion, Bryant is the greatest scorer of all-time, Durant has many more years to make that title his own.
About the Writer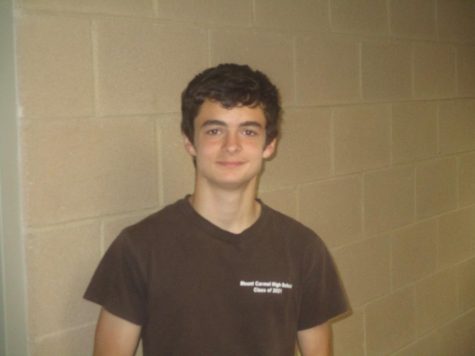 Joseph Williams-Tubay, Staff writer
Joseph Williams-Tubay was born in Chicago, Illinois, and attended Saint Benedict Preparatory School. He now attends Mount Carmel High School as a junior....